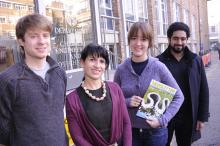 CEB Connect is our alumni network aiming to give our alumni something of value. It is an 'interactive hub' serving as a:
Source of information where both current members, partners, friends and alumni are regularly updated on the department activities and achievements

Platform for our members old and new to (re-) connect personally and professionally with fellow alumni

Conduit for your offers of support and mentorship to current students and staff
Our alumni are part of our success and, even after leaving the Department, we would like them to keep in touch so that they can still feel they are part of their Department. We do this by sending out regular updates on our latest developments, inviting them to take part in Department events and give them the opportunity to make valuable connections and take advantage of professional development opportunities and career advice offered by other network members.
Find local Alumni Groups: Local Groups are listed in the Alumni Groups Directory which is sent to all alumni living outside the UK with the Michaelmas edition of CAM
Alumni Register or Update Details
It is very important you keep us updated on your moves so that we can easily stay in touch with you and keep you informed about the latest department news and University Updates. You can register as graduate centrally.
Once registered, please ensure you regularly update your contact details.   
The Cambridge Student Alumni Network (CamSAN) exists to foster a stronger relationship between Cambridge graduate students and alumni, and provide the forum for social and professional networking among both groups
Alumni Groups
There are also lots of opportunities available for graduates to get involved with Cambridge. It depends on what your interests are and the amount of time you have available. We can help you find the best option for you.
As an alumnus/a you are eligible to join any of the 400 volunteer-led Alumni Groups around the world. You could join one of these officially recognised Alumni Groups around the world (see Groups Directory) - or start your own.