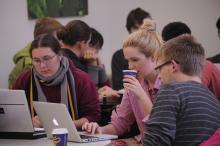 Cambridge University Chemical Engineering & Biotechnology (CUCEB) alumni are now connected!
There is a range of CEB alumni networks and initiatives that you may want to become a part of or contribute to. 
The following online platforms have been created to help you connect with fellow alumni and you old Department on a professional and social level. We would also be happy to help you organise your class reunion. Department alumni are highly encouraged to join one of these online platforms available so that they can reconnect with old friends and make new valuable contacts. Department news and updates are regularly posted on social media to help all our graduates keep abreast of CEB's latest developments. Corporate partners old and new are also welcome to join us and we can share relevant industry news and vacancies with our alumni. For leading Chemical Engineering and Biotechnology companies interested in supporting our students and willing to communicate industry needs and have a say course content see information on the CEB Teaching Consortium. 

If you would like to connect with fellow alumni professionals and discuss career matters or or keep informed on relevant vacancies being offered by our members please join our CUCEB Alumni Group or our Master's in Bioscience Enterprise MBE Alumni Group.
Also, Stay Connected on the Cambridge Alumni LinkedIn Group:  Exclusively for University of Cambridge alumni, students and staff, this is a platform that allows you to post discussions and meet fellow alumni in a professional networking setting.