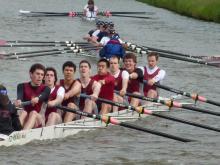 Across Cambridge, evidence of the transformative effect of your gifts abounds. Thousands of students have been able to study in Cambridge – purely on the basis of their talent. Support for key posts is helping to meet demand and sustain our research vitality. The number of Scholarships available has increased thanks to the world-class facilities that supporters like you are making possible. And the impact of your generosity can be seen in our museums, not only in the glass cases but in the faces of the hundreds of thousands of people who visit them each year.
People support Cambridge mainly because they want to give back to a University that has given them so much. They also support Cambridge because the teaching and research taking place across the collegiate University, matters on a global scale.  Several alumni and corporate partners have shown their commitment to the department and its values by supporting CEB and helping advance the education of the future in many different ways
Late Chemical Engineering alumnus Dr Robin Paul made a generous donation to the CEB New Building Fund, which kicked off our new building campaign and building works are currently underway in the West Cambridge site. The University's Development Office (CUDO) has now placed a dedicated Fundraiser within the School of Technology, Georgina Cannon. Her first objective is to build new links and if you know of

organisations that might be interested in building links
with CEB then please get in touch with her on Georgina.Cannon@admin.cam.ac.uk. In addition, check the giving options available. 
Corporate partner Johnson Matthey Plc has provided funding for department research projects working with our talented researchers on making the world a better place to live in.
Industry secondment: Corporate staff working alongside our researchers on site helps better translate the needs of industry in academia and bridge the gap between both. Their input is crucial as they help develop our courses' curriculum. Johnson Matthey's Dr Andy York has been working with us on secondment.