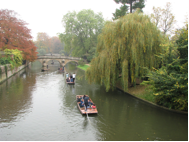 Cambridge owes its world-leading excellence in research and teaching to the commitment and generosity of its friends and supporters. The collegiate University's 800-year history is synonymous with a history of enlightened benefaction, and this is as true in the 21st century as it has ever been.
Donors to CEB are also donors to the University and enjoy the same privileges and recognition as all University benefactors. In addition, the University recognises and celebrates the generosity of supporters in the following ways:
Campaign involvement and networking opportunities
Public acknowledgement of gifts through key Campaign communications
Bespoke naming opportunities
Inclusion in the annual List of Supporters for that year
Inclusion in the Campaign Honour Booklet, to be completed at the end of the Campaign
Please note that ll forms of recognition respect the wishes of some donors to remain anonymous.
CEB would like to acknowledge and thank the main financial supporters of the new building: The Wolfson Trust and The Garfield Weston Foundation as well companies Johnson Matthew Plc and Infinitus Ltd, and the late Chemical Engineering alumnus Dr Robin Paul.