The merger of Chemical Engineering and Biotechnology in July 2008 highlighted the urgent need for a single building that will house all our undergraduate and postgraduate teaching and research activities under the same roof.
Costing £60M the building will comprise of approx 6,300m² net usable space over 4 floors of offices and 3 floors of laboratories, accommodating the whole department on one site. The design, by architects BDP, offers a vision for an interactive environment that supports excellence in research and teaching. The building aims to provide the facilities to attract the world's best research staff and students to Cambridge.
Dedicated spaces have been designed for the Magnetic Resonance Research Centre, the Laser Laboratories, Clean room, BSL3 suite and Imaging suites. All laboratories have been designed with flexibility in mind to allow the Department to adapt to the changing needs of the researchers over the next fifty years.
Teaching, social spaces and office accommodation are all arranged around a central atrium at the western side of the building. This provides a light, airy environment that is both a welcoming and pleasant space to work in.
EMBS (University Estate Management and Building Service) appointed a design team led by leading architects BDP to take the project forward to a full case. The Full Case was approved by the University Planning and Resources Committee in July 2012, and detailed design work undertaken. Morgan Sindall were appointed as lead contractors, and the initial infrastructure works began in May 2013.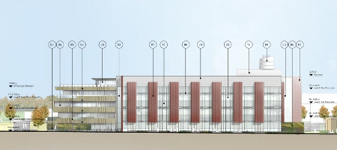 We are aiming for an energy-efficient, purpose-designed building that fulfils the vision of our new department to facilitate our teaching and research activities.
The building is scheduled to be completed in June 2015, and the Department intends to be fully operational in the new building at the start of the Michaelmas term 2015. We will then move out of the three current buildings, two of which are in the city centre, and into the new purpose built department on the West Cambridge Site. Several other departments have already moved onto the site and the new sports centre is under construction.


Our New Building: Web cam
Construction of a new home for CEB in the heart of the University's new science campus in West Cambridge began in September 2013. The progress of the new building can be followed on a web-cam positioned on the roof of the neighbouring Institute for Manufacturing. 
The building in the background is the new Materials Science and Metallurgy Department. Images are uploaded 3 times per day at approximately 9am, 1pm and 5pm. 
For more information on the CEB New Building Development, please contact Dr Tom Matthams, Academic Secretary, on tjm16@cam.ac.uk or +44 (0)1223 (3)34163 or (3)30140
If you want to be regularly updated on the new building progress on the West Cambridge Site and would like to be the first to hear about the latest department developments join the CEB News Mailing List (Link to ceb-news@lists.cam.ac.uk)