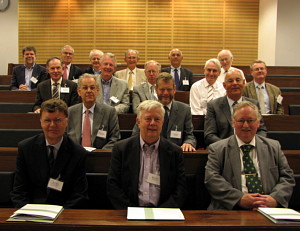 On Friday, 8 July 2011, CEB welcomed back 20 of its alumni from the Class of 1962-72. It was about 45 years ago for some since they were last at the Department.
The alumni congregated at the tea room on arrival, where they thoroughly enjoyed looking at the Class Year photographs on display. This caused much expectation as alumni played games trying to spot one another 'arguing' about how much time had taken its toll on them.
Among some of the main highlights of the day were:
Alumni were formally welcomed by Professor Slater in the Lecture Theatre. He told alumni about the merger with Biotechnology in 2008, the current state of affairs, the lack of space in the current buildings and the future. Finally, he highlighted the need for a new building to house all departmental teaching and research activities coupled with the fundraising campaign CEB is about to embark upon.
Professor John Davidson, however, focused on the past, more specifically on the Department back in the Danckwert's years.
After the welcome the alumni were taken on tours around department, which brought back memories for many. A trip down memory lane followed by an informal lunch at Sidney Sussex College, they carried on reminiscing about the past. Professor Slater made a toast to the alumni and the future in a new building in West Cambridge.
Back in the Department Sir David Harrison gave his final address and told humorous tales as part of his 'reflections and recollections from 1962-72' talk. The celebrations ended in very good spirits with farewell drinks.
All in all it was a special day very much enjoyed by all as some of the post-event comments from alumni show:
Chris Wakefield said 'Thank you very much for organising such an interesting day. Please particularly pass on my thanks to John Davidson and David Harrison. There was an excellent balance of presentations, tours and chatting. We need to get a message out to those who didn't come about what they missed'
Philip Carr commented 'It was a most enjoyable day. I liked the witty recollections of John and David and the Prof's update on present plans. The lab tour brought back a few memories too!'
Dr Andrew Scott added 'Thanks for organising this reunion last Friday; it was a very enjoyable day and, of course, very well organised. It all looked very effortless on the day, which means that you had done loads of work beforehand'.
There are more photos on the department's Facebook page.