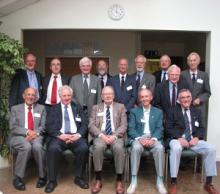 On Friday 28 May 2010, members of the Chemical Engineering Class of 1960 came back to Cambridge to celebrate 50 years since they left the Department.  This event follows on from the Class of 1959 reunion last year and is the beginning of a series of annual 25th and 50th reunions.
On 28 May 1960, this class completed their last exam paper and had their photo taken at 12.20 in the drawing office. So, exactly 50 years later, to the minute, they gathered in the same room (now a social room) for this photograph.
The photography session was followed by a Careers exercise where current students had the opportunity to talk to the alumni and learn from their vast experience of careers including industry and academia.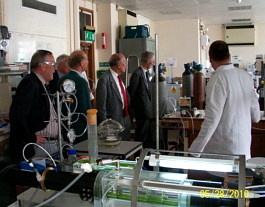 The gentlemen then went off to St Catharine's College for a leisurely lunch.
They returned later that afternoon for tours of the department laboratories, led by John Gannon and Dr Bart Hallmark.
The picture shows Ben Taylor in the Polymer Lab explaining his research work on the Algal Oscillatory Flow Bioreactor (OFB) which is used in the growth of Algae for the production of BioDiesel Fuel.
At 5pm, Dr Mark Sankey gave a talk as part of the Alumni Speaker Series. Mark is pictured here with current Head of Department Prof Lynn Gladden and previous Head of Department and leader of the class of 1960 reunion, Prof John Bridgwater.
Mark spoke on "The Fischer-Tropsch process: alchemy in the energy industry". He described how this process, which was first developed in the 1920s, is now a popular way of converting non-conventional hydrocarbon feedstocks, including coal, into high value fuels, lubricants and chemicals. He spoke about the technological, historical and commercial aspects of the process and how his PhD has benefited him and helped him develop his career in BP.
The alumni bombarded him with questions throughout the talk and Mark fielded them superbly. It made for a fascinating and lively session.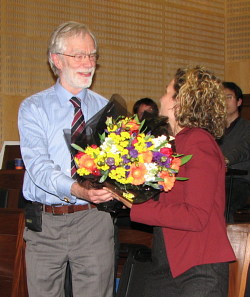 At the end, Professor Lynn Gladden thanked her former student for his talk.
Professor Bridgwater also thanked Elena Gonzalez for her hard work in organising the day's event and presented her with a bunch of flowers.
There was a brief reception after the talk and the final event of the reunion was a dinner at the University Centre.
The next reunion event will be on on Friday 29 October 2010 when the Chemical Engineering Class of 1985 will celebrate 25 years since graduation.