On 15th July 2009, many of the class who graduated in 1959 returned for a 50th anniversary reunion. It was an opportunity to meet old friends and to see how the department has changed.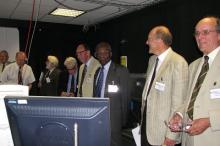 After a formal welcome by Professor Lynn Gladden and Professor John Davidson, the alumni went on tours of the department and enjoyed meeting some current researchers who explained their work.  
This photo was taken in the Laser Lab.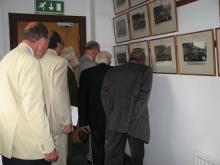 The department tour included the corridor where all the department pictures, from 1948 to the present, are displayed. The alumni were interested to see people they knew in the early photographs.
There was then an exercise where current students had the opportunity to meet the alumni and to discuss chemical engineers' career prospects – then and now.
The exercise ended with each group forecasting a front page chemical engineering breakthrough which might hit the press in 2020. These were
Chemical Engineers achieve Critical Mass in Government:
Nanoparticles used to reduce tax. 'Government Expenses to be scanned by MRI' - says Professor Gladden.
Energy crisis solved, hot air recovered from Parliament
CO2 captured at last!
Climate Change reversed - Next Ice Age predicted.
Chemical Engineers create Frankenstein!:
Optimisation good/evil: study hard
Thousands dead in Waterbeach
Chemical Engineers create perfect battery
Chemical Engineers create rain
We are entering the Golden Era (extracting gold from the sea)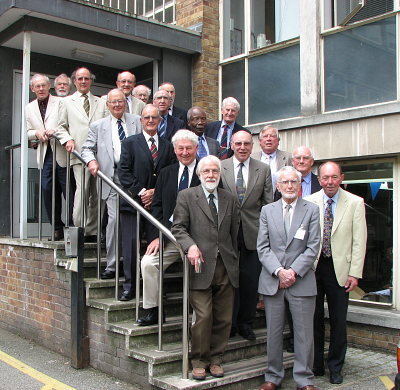 The group, assembled on the steps of the department, with Professors John Bridgwater and John Davidson at the back.
The alumni enjoyed a leisurely lunch at St Catharine's College and then returned to the department for tea and farewells. Mike Bennett thanked Elena Gonzalez for her work in organising the event and gave her a large bunch of flowers. Elena said, "It was a delight to see our current students and academics interact with our 1959 alumni and share experiences about the future of chemical engineering and how careers have evolved over the last 50 years".