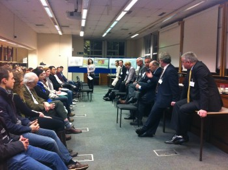 CEB Alumni Relations help student and alumni organise events of interest, whether career talks or alumni reunions, these events help students' career progression and give alumni a chance to stay in touch with fellow alumni and current students and keep you abreast of Department developments. Whether you are interested in us hosting a class reunion, taking part in the alumni speaker series or supporting the Department, please get in touch, we will be delighted to hear from you. You are also very welcome to pop in for a visit at any time.
If you would like to get more information on alumni events organised by CARO, Cambridge Alumni Relations Office, please visit the CARO website.
CUCES (Cambridge University Chemical Engineering Society) organise a yearly programme of educational and social events for our students in the Department, such as career events, visits to company sites, Shell Annual dinner and the BP Summer BBQ .
Some of the events currently organised in the Department:
Research student poster presentations
Career talks
Department seminars
Department tours and site visits from other Universities
Research Open Days
Alumni Reunions