Chemical Engineering and Biotechnology alumni, leaders in their fields of expertise, share with our students their valuable inside knowledge working in their chosen careers. Graduate experience is a valuable source of career advice to our students and CEB very much welcomes their contribution.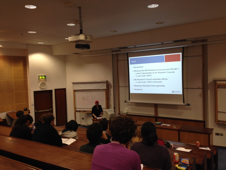 There is a significant number of professional leaders in key industry and academic positions among  CEB alumni cohort. Graduate experience can be an invaluable source of career advice to our students that helps them make more informed decisions about the career choices available to them. The Career Talk Series has been organised with an aim to give current students a better understanding of specific industry needs and a taste of what it's like to work in different Chemical Engineering and Biotechnology fields.
Our talented graduates are welcome and much encouraged to return to their alma mater and reminisce over the past whilst sharing their expertise, knowledge, professional experience and anecdotes from their day-to-day job with our students. Alumni/ae will have the opportunity to re-connect with CEB whilst providing students with hugely valuable professional advice and information on   opportunities available in their companies.
A sandwich lunch will be provided prior to the talk with opportunities for students to ask more specific questions and network with graduates and potential employers afterwards. 
These talks will be taking place twice a term (apart from Easter Term with only one) at 1 pm ( 2016/17 talk dates below). If you'd like more information or would like to get involved with this department initiative please contact Elena Gonzalez on eg314@cam.ac.uk
 CEB Career Talk Series 2016 - 2017 
The career talks and speakers for next academic year's series are as follows:
Friday 12 May 2017: Dr Malcolm Wilkinson, Kirkstall Ltd Managing Director, "Start-up Companies can be bad for your Health but good for Animals!"
The best-laid schemes of mice and men often go awry. My career path post Oxford didn't follow the route I expected moving from Microelectronics via Computer Science to Biomedical Engineering. I will tell you about how I eventually became an entrepreneur, lessons about how to create revolutionary technologies and how a passion for replacing animal testing is driving my latest venture.
Registration form for next career talk
Friday 10 March 2017: Dr Stephen Capsaskis, Principal at 7L Capital Partners.
"Venture Capital - Supporting Technological Innovation" 
Commercialisation of an innovative process or product developed in a university or corporate lab can be rewarding both for the researcher doing the work and for his/her employer but someone has to judge whether it is worth commercializing and to back this with hard cash. Venture capital funds (and the people who manage them) do precisely that and require, among others, people with expertise in the technologies in which they invest. This expertise is useful both in evaluating proposals for funding and in supporting projects already funded.
Friday 27 January 2017: Dr Max Ryadnov, Science Leader for Biometrology, National Physical Laboratory, UK
"Metrology – a small Pool with wide Reach":
Max leads Biometrology research programs in the NPL. He obtained his PhD from Lomonosov Moscow State University and the Russian Academy of Sciences, and then moved to the UK to complete post-doctoral research at the University of Sussex. Afterwards, he pursued independent academic careers at the Universities of Bristol and Leicester before joining the UK's National Physical Laboratory as a principal research scientist in 2010.
 Max's current research aims at revealing biomolecular design principles for molecular diagnostics and therapy, with particular interests in systems biophysics, regenerative and synthetic biology.
PAST TALKS 
Friday 14 October 2016: Katherine Suddaby (Senior Consultant) and Tim Murray (Associate Director), Newton. "How can I be a Management Consultant when I have no Experience?"
Michaelmas Term 2016
Friday 18 November 2016:                                                      
Piran Mazaheri, MA, CEng, FIChemE, Head of Capital Projects Department, Sasol Exploration & Production, "The golden Age of the Oil  and Gas Industry is here to stay"      
Piran will talk about the hydrocarbon industry and give his insights into the whole range of jobs available to Chemical Engineers within this sector.  
CEB Career Talk Series 2015 - 2016 
Easter Term
Thursday 12 May 2016 – Dr Darrin M Disley, Entrepreneur, Angel Investor and CEO of Horizon Discovery Group Plc:"Careers in the post-genomic Age for Engineers and Scientists"
We live in a golden age of opportunity for researchers of all disciplines to come together and solve the major challenges of the world like ageing populations, big data, clean energy, healthcare costs, economic growth, resource security and sustainability.
In healthcare, as the population of the world ages understanding the genetic "make-up" and thus "health" of nations is essential for effective social engineering and deploying of scarce resources.
Long term healthcare solutions require the tie in of the outputs of DNA sequencing, gene editing, cell, animal and tissue model studies with drug and companion diagnostic development to deliver a pharmacopeia of drugs targeted to the drivers of disease as well as novel gene and cell therapies that revert disease to a normalised state.
A further challenge then comes in linking patient data with diagnosticians and drug reimbursement models to enable a more networked and consumer-driven approach to medicine.
This talk will outline the new healthcare paradigm and will identify opportunities that exist for engineers and scientists in the academic, not-for-profit and industrial sectors.  
Friday 29 April 2016 – Claire Willmoth and Phillip Mak, BP: "Whychemeng: Practical Chemical Engineering and Early Career Development"
What are the differences between taught chemical engineering at university and the challenges faced by chemical engineers in industry? How do graduate chemical engineers develop in their journey from a graduate to professional engineer? In this guest lecture, on behalf of the IChemE, Philip Mak and Claire Willmoth will explore these questions, using their experiences working as process engineers with BP. They both graduated from the University of Cambridge, Churchill College with degrees in Chemical Engineering and are chartered engineers with the IChemE.
Lent Term 
Thursday 25 February 2016 - Lorraine Reddington, Senior Engineer at GSK, Engineering Capital Projects:
"What Do Medicines Mean to You? A career in the Pharmaceutical Industry"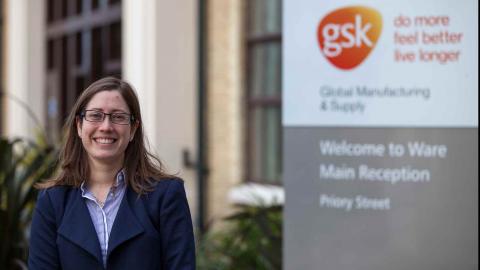 CEB alumna Lorraine Reddington returns to the Department to talk about her role at GSK, the company medicine portfolio including vaccines, pharmaceuticals and consumer healthcare, and what these medicines mean both to the employees and to our customers.
Lorraine will discuss some of the opportunities she has had at GSK and will tell about jobs and opportunities available for chemical engineering graduates at the company.
Thursday 28 January 2016 – Dr Gary Smith, INVISTA Intermediates Vice President of Sustainability:
"Managing Technical Uncertainty and Risk to generate Business Value."
Managing Technical Uncertainty and Risk successfully is at the heart of being a 
practicing process engineer. This talk will aim to address through real industrial examples how this can be done; and some key learnings that may be drawn. The speaker will also attempt to illustrate the different approaches to technical uncertainty/risk management that can be applied at the various stages of the product/process development lifecycle from discovery/R&D through to final commercialisation.   
CEB Career Series 2014 - 2015
Easter Term
Thursday 28 May 2015: Dr Dan Cooney, Patent Attorney (J A Kemp) and Chemical Engineer, "Careers in Intellectual Property (IP)"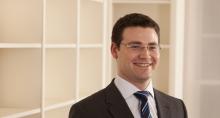 Intellectual Property (IP) covers various types of legal rights that can help protect a business from competitors.  For example, trade marks can help protect a brand, whilst patents can help protect a technology.  However, registering and using these rights can involve navigating a complicated legal system.  As a result, there are various career opportunities for technically-minded individuals - for example as a patent examiner (working at the patent office) or as a patent attorney or solicitor (working on behalf of an inventor apply for a patent).  Particularly when working as a patent attorney or solicitor, the ability to be able to understand and work with very different technology areas is key.  Chemical Engineering and Biotechnology, with their focus on cross-disciplinary learning, make for a perfect background for entering such professions (or, at least, so thinks the speaker!).
Bio - Dan is a patent attorney working at J A Kemp, in London.  He was a member of the Chemical Engineering department from 2000 to 2007, first as an undergraduate and then as a PhD student.  Despite entering the course from the 'chemical' side, Dan's interests moved more to the 'engineering' side of the subject, and he now handles a range of electronic and mechanical patent work, as well as inventions in more traditional chemical engineering and biotech fields.  He also has experience of working on secondment as an 'in-house' patent attorney for a biotechnology startup.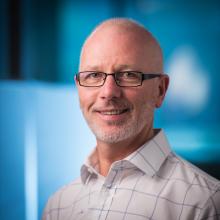 Thursday 23 April 2015: Dr Matthew Cahill, Dow Agrosciences, R&D Leader Anz, "Purpose, Mastery, Corporate Agricultural Science – and why supporting Arsenal is good for your Career"
Dr Cahill will give an insight into the breadth and depth of scientific research conducted within a global Agricultural Research Company including examples of the required disciplines.  He will also discuss some of the factors that motivate each one of us in our careers and talk about the personal competencies that can help along the way.  Purpose and Mastery provide the drive for knowledge while social styles provide the opportunity for engagement and creativity.
Lent Term
Thursday 26 February 2015: Harry Claxton, Technology Development Manager Johnson Matthey Davy Technologies, "A Career in Design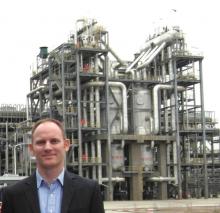 Speaker: Harry Claxton matriculated in Downing College in 1992 and graduated with a MEng degree in 1996. He joined what was then called Davy Process Technologies, a licensor of petrochemical technologies, based in Paddington. In his early career he was involved in technology development, basic engineering, and plant commissioning, mostly in China, where he learnt some elementary mandarin before it became fashionable.  He was lead process engineer for the basic engineering of two methanol plants, one in Iran and one in China.  In 2008 he became Technology Manager for a portfolio of syngas related technologies including Steam Reforming, Methanol, Substitute Natural Gas and Fischer Tropsch diesel.  He was responsible for the technical content of proposals and projects, initiating and managing technology developments, resolving commissioning issues, and managing a large group of process engineers.  In particular the unprecedented growth in large scale methanol plants in China, used in the new coal to olefins projects, kept him busy managing proposal output and negotiating the technical parts of the contracts.  After 5 years and numerous trips to China, he became a Technology Development Manager, identifying and analysing new opportunities and developing new process technologies.  Along the way he has picked up an MBA by distance learning, and has interests in managing risk and fostering innovation.  The company he joined has had several owners over the years, including a Russian oligarch, but is now owned by Johnson Matthey allowing giving the opportunity to collaborate with colleagues in different parts of the organisation. He is still based in Paddington and lives in West London.  Expect some example of process engineering issues on plant start-ups, and the odd travel anecdote.
Thursday 29 October 2015 – Katie Coull, Arthur D. Little: "Managing Safety in high hazard Industries" 
Michaelmas Term
Thursday 23 October 2014: Dr Mridula Pore, Head of Retail at Sandoz Ltd
"How Chemical Engineering  prepared me to lead a £ Multimillion Pharma Business"
Speaker: Mridula Pore matriculated in Sidney Sussex in 1999 and graduated with a BA and MEng degree in 2003. Following a gap year, she went to the Massachusetts Institute of Technology (MIT) to obtain her PhD in Chemical Engineering Practice and MBA at MIT Sloan. Her research focused on continuous manufacturing and the dynamics of commoditisation in the pharmaceuticals industry. In 2009 she returned to the UK to work at McKinsey London, where she was an engagement manager in the UK healthcare and European pharmaceutical practices. In 2013 she  joined Sandoz Ltd., a Novartis company as Head of Portfolio, and is currently Head of Retail, UK. She lives in west London and is married to Raj Shah, a Chemical Engineering classmate.
Thursday 27 November 2014: Alice Elder, Chartered Process Engineer at Mott MacDonald, "Water for life: From source to tap"
Alice will tell about her role in Mott MacDonald and how various Chemical Engineering skills (taught in the dept) are used in her day to day work and how sustainability is considered in her projects. She will also explain how she looks for Innovation in her projects.
Thursday 29 January 2015: Dr Rachel Cooke, Manufacturing Development Manager (SABMiller), "A Career in the Food and Drink Industry - Sweet success and travelling the world to find the perfect pint"
Rachel graduated in Chemical Engineering in 2000 from Trinity College and then completed a PhD in the Polymer Fluids group at Cambridge. Deciding to combine her love of chocolate with her career, she joined Cadbury (now Mondelēz) on their manufacturing graduate programme and worked in factories throughout Europe, including extended periods in Ireland and Poland. She has worked on chocolate, chewing gum, mints and jellies in a number of different roles including operations, procurement, engineering development, design, commissioning and project   management. In 2013 Rachel moved to work for the brewer SABMiller where she works in a global operational excellence role.  In her talk she will discuss the highs and lows of a career ranging from fudge to Fosters.
In 2007 Rachel won IChemE's Young Engineer of the Year Award.  She is a fellow of IChemE, has been chairman of their Food and Drink Special Interest Group for the past 4 years and is a member of the UK Board. 
In her talk she will discuss the highs and lows of a career ranging from fudge to Fosters.  Starting from how work experience in the oil and petrochemical industry led to a place on a graduate scheme at a chocolate company and moving on to the engineering challenges of working in a Fast Moving Consumer Goods Company and some of the familiar products she's worked on.  She will conclude by describing her current role measuring and sharing operational excellence amongst breweries around the world.
CEB Career Talks 2013-2014
Michaelmas Term
Thursday 28 October 2013 - ' Making Energy Efficiency Your Business'
(David Hart)
Monday 2 December 2013 – Careers in Research Councils and European Commission (Jo Frost)
Lent Term

Thursday 6 February 2014 – Chemical Engineers in the Rail Industry, (Anthony Hyde, Commercial Director at Stagecoach)
Although the rail industry has traditionally been a major employer of engineers, It does not appear to be the obvious place to practice chemical engineering.  However, the same can said of the City and management consulting where Chemical Engineers are much sought after, over and above other engineering disciplines.  This is because Chemical Engineers are trained in skills that are not instilled into the other engineering disciplines, which will be the subject of the discussion.
Thursday 27 February 2014 - Chemical Engineering – Without the Chemicals
Tim Oakley MA, MBA, FIChemE
Chemical Engineering is usually closely associated with the Oil & Gas Industry, Petrochemicals, or the mainstream Chemical Industries.  Many of the processes use hazardous, toxic and/or flammable chemicals at high temperatures & pressures, with all the associated safety requirements.
However there are many other career pathways for Chemical Engineers – such as Pharmaceuticals, Biotechnology, The Food, Drink & Dairy sectors, and a variety of other less obvious areas. Many of these processes are aqueous based, at low temperatures & pressure, and (mostly ) non-hazardous chemicals. This can create very different focus – different things are important.
Tim has worked in many of these sectors, and the talk will describe how chemical engineering can be applied in the Photographic , Biotechnology, Pharmaceuticals, Nuclear Medicine  and other Industries.  
Easter Term
Thursday 24 April 2014 - 'Venture Capital - Supporting technological innovation' (Stephen Capsaskis MA, PhD.)
Summary: Commercialisation of an innovative process or product developed in a university or corporate lab can be rewarding both for the researcher doing the work and for his/her employer but someone has to judge whether it is worth commercialising and to back this with hard cash. Venture capital funds (and the people who manage them) do precisely that and require, among others, people with expertise in the technologies in which they invest. This expertise is useful both in evaluating proposals for funding and in supporting projects already funded.
Brief bio: Stephen was an undergraduate and graduate student in the Department from 1979 to 1985, working on the dynamics of heterogeneous catalysis with Dr C.N. Kenney, and was awarded the Danckwerts-Pergamon Prize for 1985. He subsequently worked in London for an engineering consultancy and a bank. He is now a partner in a small venture capital fund management firm in Athens, specializing in technology investments in Southeastern Europe.

Thursday 22 May 2014 -  'From bench to bedside: Communications in bringing innovation in healthcare technology to the world' (Dr David Kane , European Managing Director, and Dr Elizabeth Wright, Public Relations at Inventiv Health Communications)

This interactive talk and informal chat with David and Lizzie will allow you to better understand the role of global communications in healthcare and biotechnology. From scientific publications, congress presentations to print and social media, communications has a huge role to play. Its effect is felt in everything from reputational protection, investment analysis/share price movements through to the accurate and meaningful communication of new technological developments through the lay media. Combining a strong scientific background with excellent communications skills can open the door to a range of fascinating and important careers.