Archive of news of students and staff, pre 2000
Stephanie Forrester at the Olympics
Steph Forrester earned three Blues while studying for her PhD here in the Department of Chemical Engineering at Cambridge and she fulfilled her dream of entering the Olympic Games in Sydney in the year 2000. Unfortunately a problem with the zip of her wet suit cost her valuable time and meant she only came in 15th.
The triathlon consists of a 1,500 metres swim, 40 kilometre cycle and 10 kilometre run. It was at the changeover between the swimming and cycling stage that the problem with the zip occurred. She said, "I tried to stay calm but it was pretty frustrating watching everyone go past me."
Brigitte McMahon of Switzerland won the event with Michelle Jones of Australia in second place. Magali Messmer, also of Switzerland took third. The other two British ladies, Sian Brice and Michelle Dillon failed to finish, both due to accidents in the cycle section. Sian suffered a crash in the middle of a pack and Michelle's handlebars broke.
Steph has been involved in sport since she was 10 and swam for Scotland in the mid 1980s. She continued to swim during her time at Edinburgh University, but it was when she came to Cambridge as a postgraduate that her enthusiasm for other sports began. She continued to swim, and gained her first Blue for this, but also played football. She became university captain and passed an FA coaching certificate. Football also led to her second Blue. The third Blue came in her last year at Cambridge, for athletics.
After gaining her PhD at this department, she took a two year post-doctoral position at Sydney University, primarily so that she could work on the triathlon.
 

Jenny Read

The farewell buffet luncheon in honour of Jenny Read (nee Proctor) took place in the cloisters of the Pepys Library, Magdalene College on Tuesday, 7th September 1999. Jenny had been with the Department of Chemical Engineering for 20 years and we wish her well for the future.
18 January 1999 Congratulations to Jim and Carol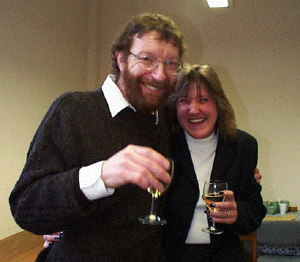 Carol Speed, who looks after the Accounts for the department, has now been with us for 21 years. Dr Jim Thompson, Computer Systems manager, has survived here for 23 years.
A small gathering was held to congratulate them on this remarkable achievement.