Dr Howard Chase has been appointed to a personal professorship. He now becomes the Professor of Biochemical Engineering with effect from 1 October 2000.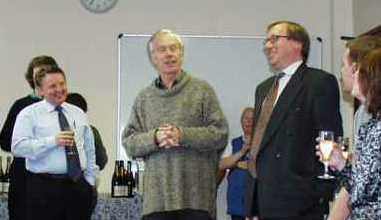 The photograph shows Professor Chase (on the right) being congratulated by former Head of Department, Professor John Bridgwater (centre) at a small reception held in his honour. Professor Nigel Slater (left) looks on.
Professor Chase joined the academic staff of the department as an Assistant Lecturer in 1984, became a Lecturer in 1986 and Reader in Biochemical Engineering in 1996. He has been the Head of Department since October 1998.
He also heads the Biochemical and Environmental Engineering Group within the Department.