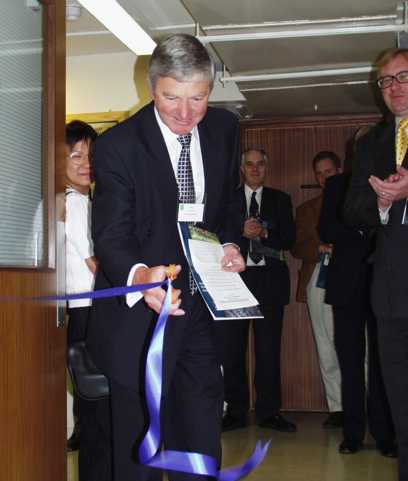 On Wednesday, 28th June, 2000, the Department of Chemical Engineering held its annual Research Open Day. This year's event was particularly important for us because we also staged the formal opening of our new Interdisciplinary Materials Research Laboratory (IMPL).
The picture captures the moment when Dr. Graham Ferris, Executive Vice-President - Europe and Africa, Shell Chemicals Ltd., cut the ribbon.
The IMPL is a £2.2M venture designed as a nucleus for collaborative studies on semi-solids, soft solids and structured fluids at appropriate levels, varying from the laboratory macroscopic scale through the mesoscale to the molecular level.
The Open Day was based, this year, on a broad theme of new materials. There was a mixture of internal and external speakers together with informal periods where delegates could talk to members of staff, visit the laboratories and talk to research students.