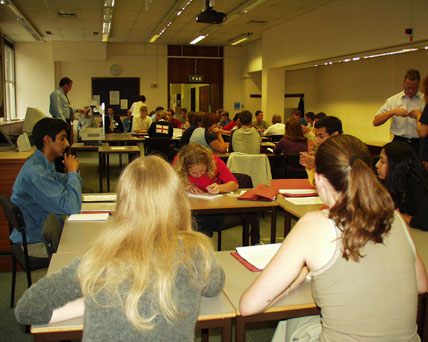 This 2-day course, 30-31 August 2001, was intended to provide a group of Sixth Formers with an innovative and altruistic approach to industry and to stimulate their excitement in the business innovation process. Specifically aimed at the food industries, the course used lectures and case studies led by senior businessmen and academics to illustrate key aspects of the business planning activity within a manufacturing environment. Thirty two lower sixth form students from a wide variety of schools from all over the country, who are interested in the possibility of undertaking a science or engineering course at University, attended at the recommendation of their Head Teachers.
The course was sponsored by North Bradon Farm, a Somerset based company heavily involved in the development and manufacture of innovative cheese products, and lecturers were kindly contributed by Weetabix and United Biscuits.
The level of enthusiasm displayed by all the students was remarkable. Feedback from the students has demonstrated that they all found the challenge both stimulating and rewarding and that it opened their eyes to career opportunities in the process industries and to business innovation. The sponsor, course organisers and participating industrialists benefited from the opportunity to work with a group of fresh and innovative youngsters who were all outstanding ambassadors for their schools. They believe justifiably that the course met its objectives and are resolved to repeat it in an expanded format next year. It is clear that industry leadership is essential and we would welcome the participation and co-sponsorship of other companies.