The Cambridge-MIT Institute (CMI) is a strategic alliance between The University of Cambridge and The Massachusetts Institute of Technology (MIT). CMI's mission is to undertake education and research designed to improve the UK's competitiveness, productivity and entrepreneurship and it is funded by both the UK government and industry.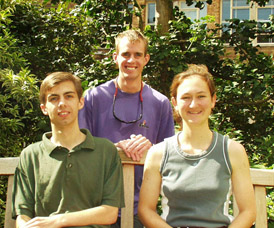 Last year, seven MIT undergraduates came to study at Cambridge as part of the first phase of CMI's exchange programme and now the CMI is setting up a new PhD programme with Advanced Chemical Engineering Practice.
Three of the first four students to enter the programme from this department are shown in the photograph (taken just before they fly off to the USA, at the end of August 2001): Stuart Scott (left), Sarah Forrest (right), Bart Hallmark (centre).
Stuart has just completed his MEng here in Cambridge and was the winner of the 2001 Salters' prize. These prizes are awarded "on the basis of the candidate's potential to occupy a leading position in the UK chemical industry".
Sarah has completed two years of the research work needed for her PhD and recently won a prize for best paper at the 7th International Symposium on Agglomeration. Her research project is entitled Flow patterns in wet granulating systems.
Bart completed his MEng here in Cambridge in 1999 and for the last year he has been sailing round the world the "wrong way" with the BT Global Challenge. When he returns to Cambridge he will be working with Professor Mackley's Polymer Group.