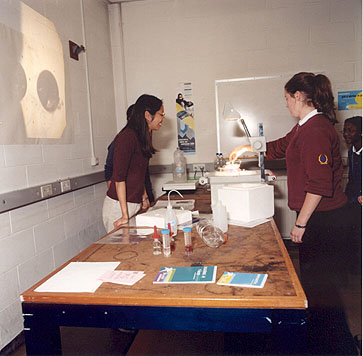 This year's 'Physics at Work' exhibition at the Cavendish Laboratories provided the opportunity for 14 and 15 year olds to see 'real' scientists and discover where 'A' level physics might take them. The answer of course being to a degree in Chemical Engineering! Six enthusiastic research students from this Department, working in pairs, had twenty minutes to convince each group of about ten students that Chemical Engineering was 'important' and 'cool'. But first came the task of explaining what Chemical Engineering was. We talked about Chemical Engineering being 'Science at Work' and described the pharmaceuticals, food products, toiletries and other chemicals made by chemical engineers to improve the quality of life of millions of people and to save millions of lives. The concept of taking a raw material and adding value to it to produce a saleable product led naturally to the high salaries commanded by chemical engineering graduates and the responsibility inherent in the job. This steered the session towards the central theme of control and allowed us to perform simple yet dramatic experiments to demonstrate how chemical plants could be controlled. Before you can control a variable (the ones we talked about were pH, temperature and pressure), the variable has to be measured. Chemical indicators were used to show how colour can be used to measure the pH of a solution and an emergency control measure - a bursting disk to release excess pressure - was demonstrated by a bung being ejected from a bottle. A collapsing bottle also showed the dangers of too little pressure. The physics behind the colour changes and the molecular origin of pressure were described.
The feedback received was positive. One student remarked that we were the only two sane people he'd seen all day! Without a doubt, there are hundreds of students out there who didn't know what Chemical Engineering was a week ago and now do.
Dr. Clemens Kaminski would like to thank those who took part, namely Jason Ho, Rachel Cooke, Dawn Arda, Paul Fennell, Bruce Russell and Matthew Lim.