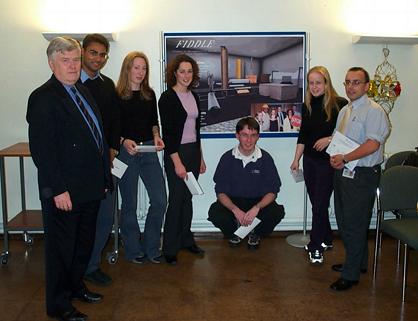 The prize for the best design project for 2001 was presented at a small ceremony on Monday, 26 November 2001. The photo shows the winning team with Design project organiser Bob Skelton (left) and Esso's Francesco Giancola (right). The team are (from left to right) Dave Sivaprasad, Rachel Elder, Clare Wood, Paul Kenny and Tina Atkin.
The Design Project this year was on the reduction in the sulphur content of gas oil (diesel fuel). It was based on a plant owned by Esso at Fawley and the winning team have been invited to the refinery for a VIP tour. Their prize is a weekend at the Calshot activity centre near Southampton, where they have the opportunity to take part in indoor and outdoor sports.
Stuart Scott has been awarded a prestigious SCI Messel Scholarship for the three years of his research studies. Stuart completed his MEng here in Cambridge and he was also the winner of the 2001 Salters' prize. He is beginning his PhD by spending his first term at MIT as part of the CMI exchange programme.
The 2001 Science, Engineering and Technology Student of the Year Awards were presented at a ceremony on Tuesday 25th September 2001. The BOC Group Award for the Best Chemical Engineering Student was won by Mohammed Samir El-Bachir for his report on a down-hole electricity generator. He was then at the University of Sheffield, but is now at the University of Cambridge, Department of Chemical Engineering, studying for a PhD on fluid mechanics, multiphase flow, fluidics and heat transfer.
Jethro Akroyd, who graduated from Cambridge with the MEng degree in 2001 was short-listed for the BOC award with his project entitled "Modelling of the Polymerisation of Methyl Methacrylate", 
2001 BOC Environment Award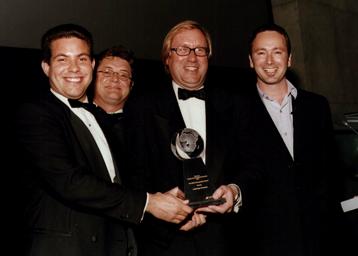 Professor Chase and Mr. Carlos Ludlow-Palafox were awarded First Place in the 2001 BOC Environment Award which is one of the eight IChemE Annual Awards. This is for their work on microwave-induced pyrolysis of plastic and aluminium laminate wastes.
Supermarket shelves are full of juice cartons, milk cartons, crisp packets and other types of food packaging. Although these cartons are the product of complex technology containing plastic and aluminium laminates, we don't give them a second thought - we eat or drink the contents and throw the packet in the bin. It then probably ends up in a land fill site. UK production of such waste is currently around 15,300 tonnes per year, of which 1500 tonnes is aluminium, but there is currently no easy way to recycle the cartons and reclaim the aluminium.
That may soon change though, as Professor Chase and Carlos Ludlow-Palafox develop their method. Plastic is transparent to microwaves, so they first heat a bed of carbon using microwaves and then add the waste material. The polymers crack to predominantly linear hydrocarbons for recycle, leaving clean aluminium foil for recovery. There are no toxic emissions and all the products can be reused.
Second place in the BOC Environment Award went to Accentus, a subsidiary of AEA Technology. Joint third were Dow Corning and Membrane Extraction Technology and Solutia UK.
ScD
Professor Chase has been awarded the ScD degree from the University of Cambridge.
Young Researcher's Award
Andrew Harris won the second prize (£300) in the Young Researcher's Award of the IChemE's Particle Technology Subject Group at the 3rd UK Particle Technology Forum held at the University of Birmingham, 12th - 13th July. His invited presentation was entitled Particle Residence Time Distributions in Circulating Fluidised Beds.
Bursary
Ralph Chadeesingh was awarded a Bursary of £250 from the Institute of Physics for his report on personal impressions of the 28th International Symposium on Combustion held in Edinburgh last year. He has also been awarded a bursary from the SCI's Messel Fund to help towards attendance at the 6th World Congress of Chemical Engineering in September.
Best paper

To honour the memory of the late Professor Genji Jimbo, a prize was offered for the best paper at the 7th International Symposium on Agglomeration, held at Albi, France, on 29th - 31st May, 2001. This was awarded to Sarah Forrest for her paper entitled Flow Patterns in Granulating Systems (co-authors: J. Bridgwater, P. Mort and J. D. Litster).
Stuart Scott awarded Salters' prize for 2001
Stuart Scott has been awarded one of this year's prizes from The Salters' Institute of Industrial Chemistry. By winning this prestigious award, he follows in the footsteps of many previous students from the Department of Chemical Engineering, Cambridge University. Rachel Cooke (see below) won a Salters' prize in 2000, Hamish McPherson (also below) won in 1999, David Steele in 1998, Lucy Carr in 1997 and Steve Wright in 1996.
Each year, the Salters' Institute invites every UK department of Chemistry or Chemical Engineering to nominate one final year undergraduate. Prizes are awarded "on the basis of the candidate's potential to occupy a leading position in the UK chemical industry".
The Salters' Institute of Industrial Chemistry aims to support chemistry teaching and to encourage young people to pursue careers in the UK chemical industries.
IChemE Fluids Mixing Competition

Miss Min Chen won the IChemE Fluids Mixing Competition for Research Students, sharing the prize with a student from UMIST. The competition was held at the University of Birmingham on 26th April, 2001. Her talk was entitled How Do Large and Small Bubbles Mix Liquids? and was co-authored by Dr. Cardoso.
Cambridge University Entrepreneurs Competition
A team comprising of Anuj Madhok, a PhD student in this department, and two students from the CRC/Wellcome Institute and Pharmacology came second in the Cambridge 50k Entrepreneurship Competition 2000/2001. Their prize was £12,500 and their idea is to discover drugs from medicinal plants with a focus on accelerating wound healing.
A team comprising Mr. M.B.M.Y. Yunus and fellow PhD students from the Institute of Biotechnology has won the £1000 prize in the Cambridge University Entrepreneurs Competition for a proposal to develop and market a drug that prevents gluten allergy in susceptible individuals.
George E. Davis Medal
Sir David Harrison (Chairman of the Chemical Engineering Syndicate) has been awarded the prestigious George E. Davis Medal of the IChemE. He was presented with the medal by IChemE president John Perkins at The Royal Society in London on 28th March, 2001. He also gave a lecture entitled University Challenge: What Place for Chemical Engineering in UK Universities? In his lecture, Sir David reflected on the history of Chemical Engineering's development within the UK university system and provided some thought provoking analysis on the discipline's future role.
Padma Vibhushan
Prof. M. M. Sharma (a research student in the Department 1961-1964) was awarded the Padma Vibhushan on the eve of Indian Republic Day (25th January). This is one of the highest national honours bestowed by India.
OBE
Prof. Gladden was awarded an OBE in the New Year's Honours List for Services to Chemistry. She has also been awarded a Tilden Lectureship and Silver Medal of The Royal Society of Chemistry.