The IChemE Biochemical Engineering Subject Group Postgraduate Research Event took place at the Department of Chemical Engineering, University of Cambridge on Monday, 16 December 2002. The keynote speaker was Dr Barry Buckland, Vice President Bioprocess R and D at Merck (USA), who spoke on The future of biochemical engineering: the pharmaceutical industry perspective.
The day included the presentation of the very prestigious Donald Medal of the IChemE. The Donald Medal is named after Professor Maxwell Bruce Donald, former Ramsay Professor at University College London where biochemical engineering was first established in the UK, and is awarded by the Biochemical Engineering Subject Group for outstanding services in that area.
The photograph shows Dr Barry Buckland (on the left) receiving the Medal from the Vice President of the IChemE Biochemical Engineering Subject Group Dr Anton Middelberg. Dr Buckland is one of the leading biochemical engineers in the global bioindustry. He has been responsible for bringing through to the public a number of major vaccines. He is very active in research and the award of the Donald Medal recognises his significant contribution and lifetime achievement in biochemical engineering.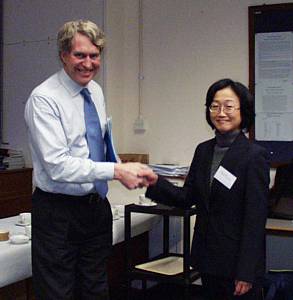 The agenda for the Research Event included talks, poster sessions and further award presentations. There was a prize for the best Biochemical Engineering Image. The prize for the best presentation was won by Chew Tin Lee from the Department of Chemical Engineering, Cambridge University for her paper on An integrated refolding and extraction system for the production of recombinant protein from inclusion bodies. The runner up was Emma Emanuelsson from Imperial College. The prize for best poster was won by Helen Onyeaka from Birmingham University, with runner up, Giacomo Morreale from Cambridge.