Biodiesel - an environmentally friendly alternative to fossil fuel, October 2002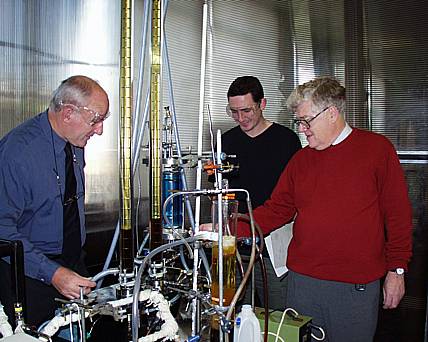 Researchers at the Chemical Engineering Department at Cambridge University have developed a new continuous process for converting waste food processing oil into bio-diesel fuel. Bio-diesel is an environmentally friendly alternative to fossil fuel and it may be used in any conventional, unmodified diesel engine. The basic chemistry of bio-diesel production has been known for some time but it is normally carried out as a batch process.
By applying the Oscillatory Flow Mixing (OFM) technology developed at Cambridge it has been possible to design a continuous production plant. OFM technology is used not only in the esterification reaction but also in the washing and purification stages that are vital to produce a product that can be used in modern engines.
A pilot plant is now fully operational which can produce about 3 litres per hour of high quality diesel fuel with a flash point well in excess of 100o C and a Cetane number of about 53. The pilot plant can be used to test a wide variety of feed stocks and has recently been used for fresh rape seed oil, waste oil from a doughnut cooking operation and another waste food processing oil.
Sufficient information has been obtained form the pilot plant to enable the design of commercial scale plants.
Team members are, from left to right in the picture, Professor Malcolm Mackley, Dr Adam Harvey and Bob Skelton.
October 2002