From the 23rd to the 25th of July, Dr Vassilios Vassiliadis, from the Department of Chemical Engineering, University of Cambridge, gave a course entitled Linear Algebra and Numerical Analysis to students of the Biochemical Engineering Department of Universidad Catolica de Valparaiso in Valparaiso, Chile. He was invited to give the course by Dr Raul Conejeros who was a student of his at Cambridge.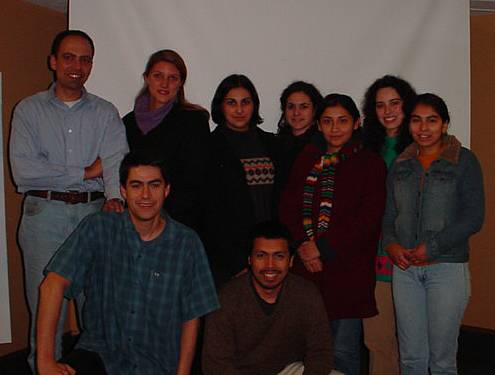 The photograph shows Dr Vassiliadis (standing, on the left) with some of the undergraduates from Valparaiso. Dr Conejeros is kneeling in the front on the left.
On the 26th July Dr Vassiliadis lectured a second more advanced one day course for postgraduate students and invited delegates from industry.
Dr Vassiliadis' area of research at Cambridge is the application of modern numerical methods in the field of process design and optimisation. His aim is to provide improved designs for new chemical processes and plants, and to improve the performance and operation of existing ones.