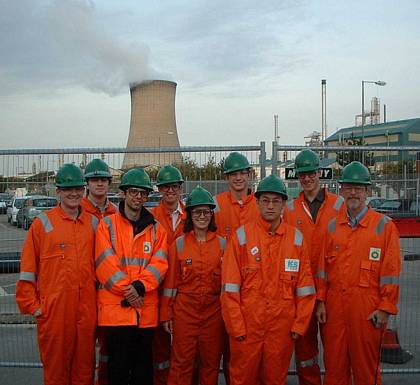 Sarah Forrest, Daniel Holland, Bart Hallmark and Stuart Scott are the first four students from Cambridge to take the PhD with Advanced Chemical Engineering Practice, sponsored by the Cambridge-MIT Institute (CMI).
They spent from October to December 2001 at MIT taking key parts of the MIT Chemical Engineering Practice (CEP) course with the US students on the programme and since then they have been working on their own PhD research projects at Cambridge.
This summer, in August 2002, they went to Saltend, in Hull (north east England), to attend a Practice School at the BP site there. The chemical engineering practice school concept originated at MIT in 1916 to provide practical training in an industrial environment that would supplement classroom studies. This is the first year that it has been brought to the United Kingdom. The four Cambridge (UK) students and four MIT (US) students were sent to Hull to work with BP chemicals on a number of industrial problems. Unfortunately, due to commercial confidentiality, details of the projects cannot be given here, but they were technically challenging and met a business need. The 8 week placement was split into 4 week blocks and the Americans paired with the UK students. They were supervised by an MIT station director, Barry Johnston.
The mixed teams of UK and US students put a great deal into their projects, but it was not all work. Various group outings were organised, ranging from walking in the North Yorkshire Moors, to trips to Dublin and Edinburgh.
One of the Cambridge students said on his return, "Whilst this was a break from the usual course of the PhD, the skills learnt on the placement will prove valuable in the real world that awaits us after the PhD".
The photograph shows the team at BP, Hull, left to right: Ed Murphy (MIT), Kirrel Tityevski (MIT), Stuart Scott (UK), Bart Hallmark (UK), Anna Psannia (MIT), Chad Augustine (MIT), Andrew Kim (Assistant Director), Daniel Holland (UK) and Barry Johnston (MIT Practice School Director).