Ron Nedderman graduated with a BA from the Department of Chemical Engineering, University of Cambridge, in 1956. He stayed on to conduct his research under the supervision of Professor Terence Fox, gaining his PhD in 1960. His thesis was entitled "Velocity profiles in thin liquid layers". After graduation he became a Demonstrator and has been a University Lecturer since 1965, specialising in granular materials and two-phase flow, subjects in which he encouraged many undergraduates and postgraduates over the years.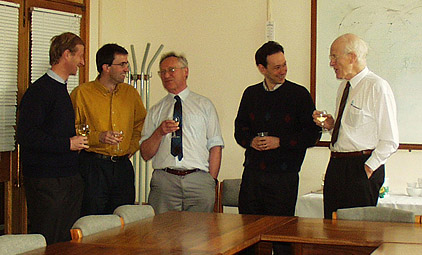 Dr Nedderman took early retirement on 31 July 1999, but he continued to teach our undergraduates, on a part time basis. His book (with J M Kay) Fluid Mechanics and Transfer Processes is a classic textbook for undergraduates together with his book on Statics and Kinematics of Granular Materials which is still the only basic treatment of the subject.
He gave his last lecture on 'Soft solids' at 10 am on Wednesday, 13 March 2002. At the end of this lecture, the Part IIB class presented him with a book on birds and he gave a short speech including comments about the changes he has seen in students over the years.
Members of staff then gathered for a small celebration. The picture shows a few of those present, from left to right, Dr John Dennis, Dr Ian Wilson, Dr Ron Nedderman, Dr Patrick Barrie and Professor John Davidson. John Dennis and Ian Wilson were both taught by Ron when they were undergraduates here.
Now that he is fully retired, Ron intends to spend more time on his hobbies such as bird watching and Scottish Country Dancing on which he is going to write his next book.