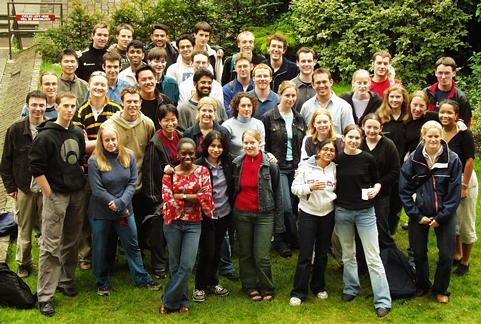 It is time once again to say good-bye to a group of people we have come to know during their three years with us. This photograph of the leaving class on June 6, 2002 may show the last time they are ever all together. It was taken just after their last exam and as they opened the champagne to celebrate. Since then, many of them will have attended a May Ball whilst waiting for exam results. Soon, dressed in gown and hood and watched by proud parents, their MEng degrees will be conferred upon them in the Senate House.
We hope that a few will return to study for a PhD with us, but we wish them all well in their chosen careers.
Our students spend their first year at Cambridge studying Natural Sciences, Engineering or Computer Sciences. They then transfer to Chemical Engineering. The next year (Part I) is a foundation course and then the third year (Part IIA) covers core Chemical Engineering and includes a major Design Project. After Part IIA, the students are entitled to a BA degree, but almost all students continue to a fourth year, Part IIB . Part IIB is an advanced course in Chemical Engineering. It provides an opportunity to study the subject in greater depth, to consider recent advances and to undertake some original research work. Those who successfully complete Part IIB are awarded the MEng degree which satisfies the academic requirements for full IChemE membership leading to Chartered Engineer status.
If you are interested in studying for an MEng in Chemical Engineering at Cambridge, please see the Undergraduate courses information
The Easter term ended on 14 June 2002. The next academic year starts with the Michaelmas term on 8 October 2002. Term dates