To support our aim to pursue excellence in teaching and research, recent investments have included the creation of the Interdisciplinary Materials Research Laboratory (IMPL), improvements to the computer rooms and the refurbishment of office and lab space around the department.
In the summer of 2001, the main teaching laboratory was completely refurbished and refitted and this was completed in time for the start of the Michaelmas term in October 2001.
The next phase of the programme is the creation of CUBE, the Cambridge Unit for Bioscience Engineering. As the emphasis of Chemical Engineering changes, so the needs of researchers change and large open plan laboratories need to be replaced by smaller rooms with specialised equipment. The CUBE building works started in December 2001.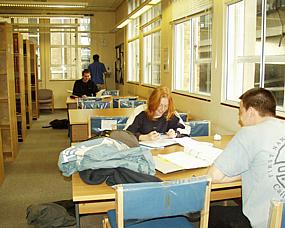 In response to student requests, the Department Library is also being refurbished. There have been improvements to the book stacks and the librarian's office to make the library more accessible and friendly. There is now more space for students to work and the furniture in the new area is clearly so popular that undergraduates were using it before we even had chance to take the wrappers off.