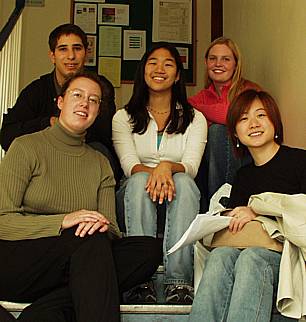 The new academic year began on Tuesday, 8 October, 2002. New undergraduate and postgraduate students arrived in Cambridge from all over the world and previous students returned. This year 46 students signed up for the BA/MEng in Chemical Engineering and we have 19 new postgraduates.
Chemical Engineering is one of the Departments at Cambridge which participates in the Cambridge MIT Initiative and this year four of our undergraduates have gone to MIT to study for a year and the five students shown in the photograph have come here from MIT.
At the postgraduate level, five of our students are currently starting their PhD studies by spending the Fall Semester at MIT, working with their US counterparts, while those who started the programme last year have just returned from the Practice School in Hull.
This coming year should see the continued evolution of the department with two new lecturers and the opening of CUBE, the Cambridge Unit for Bioscience Engineering.
While we have sympathy for the unfortunate students affected by A-level regrading in Britain this year, this department was not directly affected. Students coming to Cambridge study Natural Sciences, Engineering or Computer Science for one year before choosing to take Chemical Engineering, so all our "new" undergraduates left school at least a year ago.
October 2002