A team of researchers from the Department of Chemical Engineering today celebrated the commissioning of new research equipment for producing renewable energy from waste materials. The team from the Energy Research Laboratory in the Department has developed a fluidised bed reactor for producing a clean burning, hydrogen rich fuel gas from municipal sewage sludge.
"Current methods to treat the vast quantities of sludge produced in Europe include spreading it on agricultural land, burning it or burying it in a landfill" says Dr Andrew Harris, project researcher and Research Fellow at Darwin College. "There are quite a few negative connotations associated with these alternatives. Our work aims to give an environmentally acceptable one."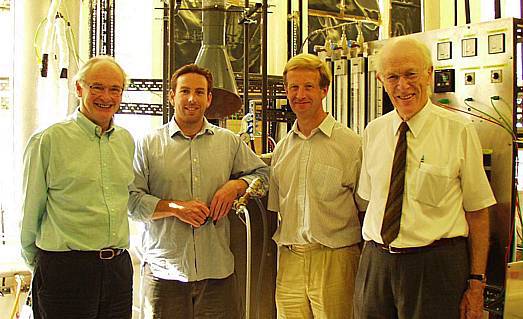 Dr Harris together with his colleagues in the project, principal investigator Dr John Dennis, co-investigators Prof. Alan Hayhurst and Prof. John Davidson and PhD student, Stuart Scott aim to produce a valuable hydrogen rich gas from the waste material and at the same time minimise harmful emissions and by-products.
"There is a lot of talk at the moment about the new hydrogen economy, but nobody goes into much detail about where all this hydrogen is going to come from". says Dr Dennis. "Our technology has the potential to produce large quantities of hydrogen from waste materials, relatively cheaply"
The project is funded by the EPSRC and the team hopes to be able to commercialise the technology upon completion. There is already a good deal of interest from industry.
October 2002