Tuesday 2 July 2002
The theme of the Research Open Day was Product Design and featured our unique development of this new field in Chemical Engineering.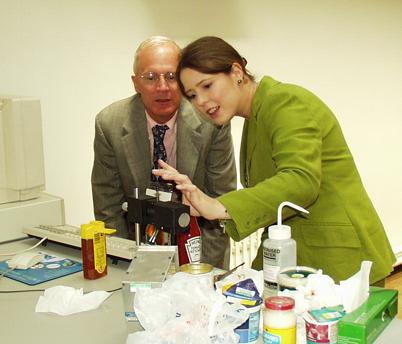 At this year's event the Professor J. F. Davidson Annual Lecture was given by Professor Ed Cussler, from the University of Minnesota, who gave a talk on Refocusing Chemical Engineering. Professor Cussler helped to pioneer the Product Design course at Cambridge with Dr Geoff Moggridge. The picture shows award winning research student Rachel Cooke demonstrating an experiment to Ed during one of the informal "cluster" periods where delegates had the opportunity to talk to members of staff, visit the laboratories and talk to research students.
The programme also included talks by Dr D I Wilson and Dr S S S Cardoso whose research is closely allied to the theme. There were also the usual poster sessions which give an overview of research conducted within the various departmental research themes.