News of students and staff
CHaOS on tour, summer 2002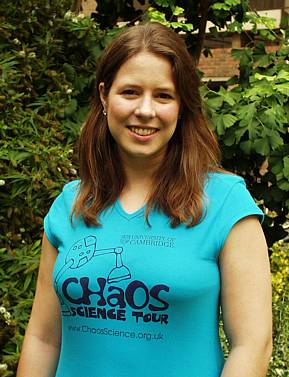 Chemical Engineering PhD student Rachel Cooke (pictured right) is one of a group of Cambridge University students who will be bringing their own brand of fun science to seaside resorts this summer. Cambridge Hands-On Science (CHaOS) will be encouraging youngsters to get involved in exciting interactive demonstrations at six road-show events along Britain's south coast. From extracting DNA from kiwi fruit to mysterious floating bubbles, the group will be explaining some of science's most intriguing puzzles and encouraging children to find the answers to many more for themselves. There will also be the chance to enter the CHaOS engineering challenge.
CHaOS organiser, Sarah Crisp explained: "There is so much more to science than white coats and laboratories. We want to show everyone that science is fun and relevant."
The sessions are free and will be from 12 noon until 5 each afternoon at the following venues. The events are open to all but the group ask that children be accompanied by an adult.
| | | |
| --- | --- | --- |
| 23rd August 2002 | LYMINGTON | St Thomas' Church Hall |
| 24th August 2002 | CROSSWAYS | Village Hall |
| 25th August 2002 | SWANAGE | The Mowlem Community Room |
| 26th August 2002 | PRESTON (nr Weymouth) | St Andrew's Church Hall |
| 28th August 2002 | KINGSBRIDGE | bandstand |
| 29th August 2002 | EXMOUTH | Elizabeth Hall |
The CHaOS group also organise the biggest Cambridge National Science Week Event, attracting over 5000 visitors in just 6 hours.
Potters Bar train crash, 10 May 2002 - Dan Cooney now out of hospital
Chemical Engineering undergraduate student Daniel Cooney was amongst the injured in the horrific train crash at Potters Bar. He had travelled to London for a medical as part of his interview for a job with Exxon and was on his way back when the accident happened. He was taken to Barnet General Hospital, where doctors originally thought he'd cracked some ribs and broken his collar bone. His recovery was delayed by contracting MRSA, an antibiotic resistant hospital "superbug", and it was eventually found that he had a fractured sternum.
On June 2, we were delighted to hear that he had been allowed to go home and on June 7 he called in to the department. His class mates had just completed their design projects and he was able to join in the celebrations.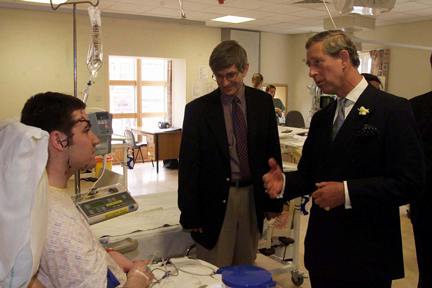 On Saturday 11 May, the Prince of Wales visited Barnet General Hospital and the picture shows the Prince chatting to Daniel Cooney.
Daniel Cooney is a member of St John's college. He studied Natural Sciences in his first year at Cambridge and then transferred to Chemical Engineering. He is now in Part IIA of his Chemical Engineering course. At the time of the crash, he had just completed his exams for this year and was starting a major design project.
The crash killed seven people, including Jonael Schickler, a PhD student at Queens' College, Cambridge and Emma Knights, a former member of university staff.