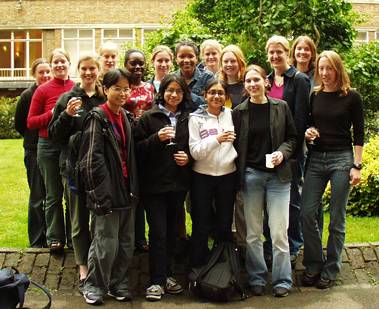 Vanessa Blake writes, "When I started my degree course in Chemical Engineering at Leeds in 1976, there were five girls in a class of sixty five and I was surprised that there were so many of us. I was prepared to be the only one."
While girls are still under-represented in science and engineering, the situation has improved greatly since the seventies. This year, The Guardian's University guide shows that Cambridge, in addition to being the top department, has the highest proportion of female students in any chemical engineering department in the country - 36.5%.
The picture shows the ladies from the graduating class of 2002, celebrating after finishing their last exam. There are 16 of them in a class of 42 - that's 38% in that year. The other years have a similar percentage.
If you're thinking of coming to Cambridge to study Chemical Engineering, see the information on Undergraduate Courses.
Further information on Women in Science and Engineering
Association for Women in Science and Engineering Cambridge Branch
Cambridge University Women in Science, Engineering and Technology Initiative