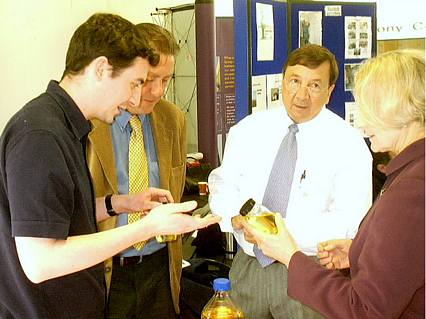 At a recent Trade Fair at the Lion Yard, Cambridge, post doctoral researcher Dr Adam Harvey had the opportunity to explain his work on bio-diesel to Cambridge MP Ann Campbell.
Bio-diesel is an environmentally friendly alternative to fossil fuel. It is made by converting waste food processing oil into bio-diesel fuel and it may be used in any conventional, unmodified diesel engine.
Left to right in the picture are Dr Adam Harvey, Steve Hall, Martin Brook and Ann Campbell. Steve Hall and Martin Brook are from biofuel.org.uk.
Chemical Engineering undergraduates in their third year at Cambridge undertake a major design project and this year they are designing a bio-diesel plant. The prize for the best group design is to be provided by biofuel.org.uk.
Bio-diesel research project team members are Professor Malcolm Mackley, Dr Adam Harvey and Bob Skelton.