The Chancellor of the University of Cambridge, HRH the Duke of Edinburgh, conferred honorary degrees at a traditional ceremony in the University's Senate House.

The honorary graduands this year are:

Olga Kennard OBE ScD FRS of Newnham and Lucy Cavendish Colleges, formerly Director of the Cambridge Crystallographic Data Centre.

Stroud Francis Charles (Toby) Milsom QC MA FBA, Fellow of St John's College, Emeritus Professor of Law.

Anthony Mark David Gormley OBE, MA, Honorary Fellow of Trinity College and of Jesus College, Sculptor.

Sir Peter Reginald Frederick Hall CBE, MA Honorary Fellow of St Catharine's College, Director of plays, films and opera.

John Adams, composer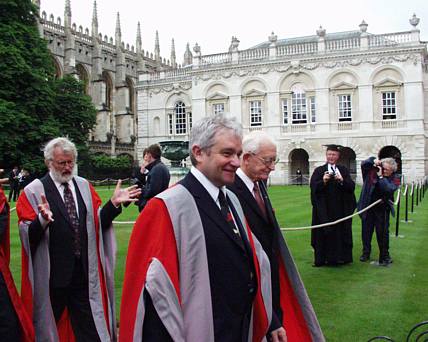 The other three graduands are shown in the photograph, left to right,
Sir John Sulston PhD, FRS, Honorary Fellow of Pembroke College, Nobel Laureate, Staff Scientist in the Medical Research Council Laboratory of Molecular Biology, formerly Director of the Sanger Centre,
Sir Paul Nurse FRS, Nobel Laureate, Chief Executive, Cancer Research UK, (nearest the camera)
and Alan MacDiarmid PhD of Sidney Sussex College, Nobel Laureate, Blanchard Professor of Chemistry in the University of Pennsylvania and James Von Ehr Distinguished Chair of Science and Technology and Professor of Chemistry and Physics in the University of Texas at Dallas.