Belinda Akpa, Simon Hanslip and Mark Sains have recently arrived back from a trip touring several cereal plants of the US food producer General Mills Inc. As part of the course for the PhD with Advanced Chemical Engineering Practice (created in co-operation with Massachusetts Institute of Technology), the three were participating in a Practice School run by MIT and GMI. The Practice School is designed to introduce students to an industrial environment, and to allow students to perform research in a professional manner.
Although hard work, the students agree that they obtained some valuable insights into research in a food company and the technicalities of acquiring data from a continuously operated production line.
At the weekends, when work was not keeping them busy, the students managed to see some sights: Niagara Falls whilst in Buffalo, a famous comedy club (Second City) in Chicago and, strangely, a giant cherry sitting on a spoon in Minneapolis!
Presently, two more students, Andrew Rees and Iain Burns, are participating in a Practice School being held at the BP Chemicals plant in Hull, UK.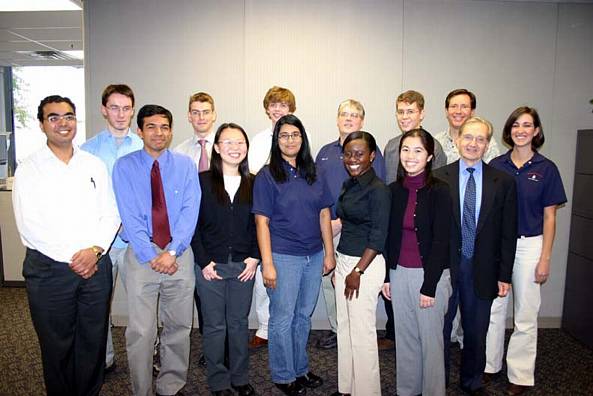 Group photo taken at the end of the Practice School at General Mills' West Chicago Plant.
Left to right: Back row: Mark Sains, Simon Hanslip, Gregg Beckham, Chuck Loeffler (GMI), Brian Stephenson, Todd Hopps (GMI), Annie Retzer (GMI), Front Row: Ajay Selot, Sanjoy Sircar, Ivy Lee, Purbita Ray (GMI), Belinda Akpa, Phuong Nguyen, Claude Lupis (MIT Station Director)