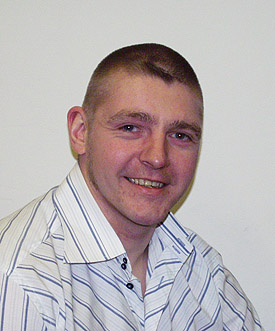 Cambridge UK, April 9, 2003, Vivamer Ltd announces that it has secured seed finance from the University of Cambridge Challenge Fund. Professor Nigel Slater and Dr Mark Eccleston (pictured left) of the Department of Chemical Engineering, University of Cambridge, founded Vivamer to commercialise their responsive polymer chemistry. The seed financing will be used to demonstrate the utility of Vivamer's technology in the areas of diagnostic imaging and drug delivery for anti-cancer applications.
Responsive polymers react to their environment and can be designed to act as a molecular switch turning on or off chemical properties associated with payload compounds. For example, in response to a change in pH at a site of disease, a Vivamer polymer could release a drug payload, delivering the drug directly to the site of disease. The technology has numerous applications including healthcare, household chemicals and food technology.
"Responsive polymers offer a number of compelling benefits in healthcare applications," said Professor Slater. "By releasing drugs or activating imaging agents in response to the disease environment you have greater control over the patient's treatment".
Bill Mathews commented, "Vivamer is the latest company to emerge from Cambridge University, and demonstrates the university's continuing expertise in commercializing world class inventions. We believe that Vivamer's chemistry platform has the potential to deliver significant value to its commercial partners across a range of industries".
Vivamer was founded in December 2002 to commercialise responsive polymer chemistry developed by Professor Nigel Slater and Mark Eccleston. Professor Slater's work at Cambridge focuses on Bio-products manufacturing and functional, bio-mimetic materials and his work is related to the Bioscience engineering research theme.
The University of Cambridge Challenge Fund provides seed finance to companies spun out of the University of Cambridge. It has made investments in 11 companies including Daniolabs, Akubio and Cambridge Semiconductor since it was set up in 2000.