News of students and staff - 2003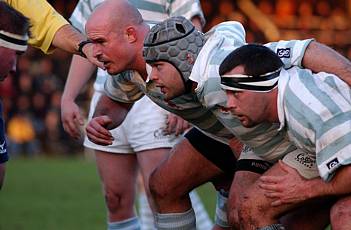 Cambridge retain the trophy
The 122nd annual Rugby Union Varsity match between Oxford and Cambridge took place at Twickenham on on Tuesday December 9th, 2003. It ended with a score of 11-11, the first tie between the sides since 1965. Cambridge retained the MMC trophy on the strength of their 15-13 victory 12 months ago at Twickenham. For further information see the Cambridge University Rugby Union Football Club website.
Chemical Engineering post graduate student Gareth Forde was in the Cambridge squad. Gareth is working for a PhD in the Bioscience Engineering Group and his research project is entitled Plasmid DNA Purification.
The department was also represented by undergraduate student Nick Wells playing on the wing for the U21A Varsity Match.
Berlin marathon

On the 29th September 2003 research student Rob Harris completed the Berlin Marathon. It was his first marathon and he clocked a time of 3 hours 16 minutes for the 42195 m course, placing him in the top 3000 out of 35000 participants.

Rob is a member of the Catalysis and Magnetic Resonance Group, working on a three-dimensional investigation of pore-scale flow phenomena in micro-models.

He decided to compete in the marathon after a school friend emailed him in need of a partner to run with. Having got a taste for distance running, he plans to take part in the London Marathon in April.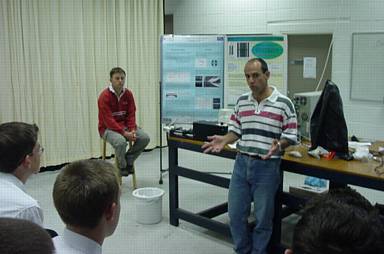 Physics at Work Exhibition 2003
The Physics at Work Exhibition for 2003 took place at the Cavendish Laboratory from 16th to 18th September. The exhibition attempts to stimulate interest in science amongst 14-16 year olds by showcasing the many and varied ways in which physics is used in the real everyday world. During the three days, there were two sessions on each day and approximately 20 exhibitors, including the Department of Chemical Engineering. The students are split into small groups of about 15 and each group is accompanied by a teacher as they attend the various exhibits.
The picture shows Chemical Engineering research student Dean Barker explaining a point to one group, with Post doctoral researcher Dr Paul Tosch looking on.
Chariots of Fire
Three hundred and seventy three teams took part in the 12th Chariots of Fire relay race on 21st September 2003 and a team from the Department of Chemical Engineering came 15th overall and 10th in the mens team category. The event was run over a picturesque 1.7 mile course through the streets of Cambridge and was in aid of the Cambridge Breast Unit at Addenbrooke's Hospital. The race was started and finished by Lord David Puttnam, producer of the Oscar-winning film Chariots of Fire, which lends its name to the event.
The Chemical Engineering team included research students Dean Barker and Rowan Hooper and Research Facilitator David Carter. Lecturer Dr Ian Wilson also took part in the race but ran for Jesus College.
Summer events

On August 1st, the wedding took place of Amanda Tubb and Mark Dawson. Amanda was a postgraduate student at the Department of Chemical Engineering, working on On-line food mixing; mixer performance and product qualitywith Professor John Bridgwater as her supervisor. She now works for Campbell Soup Company.

We would like to congratulate the happy couple.

 

Our congratulations also go to Kudzai Ballantyne who has passed her recent accountancy exams and is now a Member of the Association of Accountancy Technicians.

 

Raino and Delia in Sidney Sussex Chapel. Photo by Chris Green
On Saturday 26th July 2003, Raino Kristian Hansen, a postdoctoral researcher at the Department of Chemical Engineering, married Delia Ruth Griffiths from Sidney Sussex College and the Department of Biochemistry. The ceremony took place in the chapel of Sidney Sussex College and was conducted by the college chaplain Dr. Revd. Keith Straughan.

Delia was captured on video by many tourists as she was waiting to enter the chapel.

Raino and Delia extend their warm thanks to the friends in the department, who gave a gift voucher for IKEA.

 
Rachel Cooke: Researcher in Residence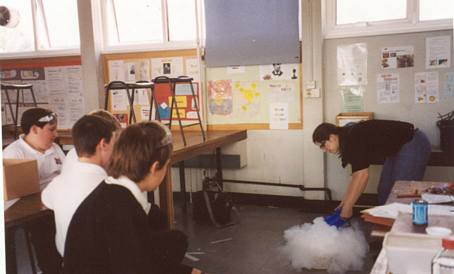 The research councils run a Pupil Researcher Initiative scheme, which aims to raise the motivation and achievement of young people in science. One of the Department's students, Rachel Cooke, has been participating in this scheme for the past year, by being a Researcher in Residence at Netherhall School, Cambridge. Each week, Rachel has spent an hour in the classroom, enthusing the members of the school science club. She has also arranged for the science club to visit the Department, given careers advice to the sixth form and run a series of hands-on science workshops for year 8.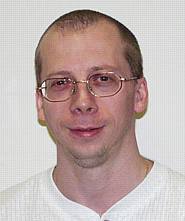 Dr Petr Steiner is currently a postdoctoral researcher at the Department of Chemical Engineering, Cambridge University, working with Professor Lynn Gladden in the field of catalysis. He is also an international athlete.
Petr is from the Czech Republic and has been doing athletics since he was 10 years old, with proper training sessions from the age of 14 (1987). He then became a member of Dukla Praha, the athletic team, which harbours most of the top athletes in his home country.
He is a sprinter, running 60m, 100m and 200m and also the 4x100m relay race when possible. After several years of training and winning medals in the Czechoslovakia and Czech Republic Championships in 1990-1992, he became a member of a Junior Czech Republic team and entered several international competitions in 1992.
He says, "I kept training until 1997, when I had to stop because of my diploma work. I started to train again in autumn 1999 and I have been regularly training since then."
In 1999-2002, while he was doing his Ph.D. in Norway, he was a member of a Norwegian athletic team and became an Academic Champion of Norway. He won several medals in relay races in the Norwegian Championships of 2000 to 2002.
After coming to Cambridge, he joined the Cambridge and Coleridge Athletic Club, where he runs (and usually wins) 100m, 200m, relay races and occasionally the long jump. The club competes in the 2nd division of the Southern Men's League.
Depending on the part of the season, he trains 4-6 times a week, usually 1:30-2:00 hour sessions after work.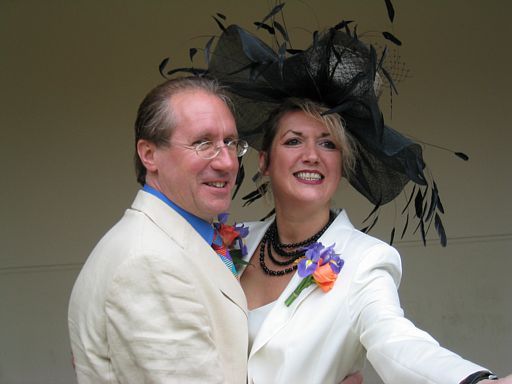 A Wedding
On Saturday, 17 May, 2003, Professor Howard Chase and Dawn Leeder were married in Cambridge.
Howard is Head of the Department of Chemical Engineering and Dawn is founder of UCEL (the Universities' Collaboration in eLearning) and Senior Research Associate in eLearning at Cambridge Clinical School.
Congratulations to the happy couple and best wishes for the future.
The Boat Race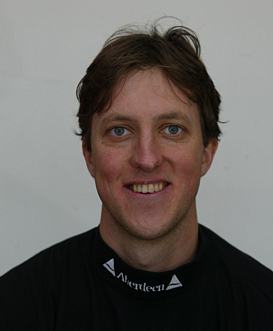 The Boat Race took place on April 6th, 2003, at 4.30 in the afternoon.
For the 149th time, crews from Oxford and Cambridge rowed against eachother on the traditional course on the River Thames, but there was nothing traditional about the finish. This was the closest race of all time with Oxford winning by only one foot. As they crossed the finishing line, there was no immediate celebration because the crews themselves didn't know who had won.
Oxford led for most of the race, but Cambridge made a valiant run from Barnes Bridge to the finish line. The winning time was 18 minutes 6 seconds, with Cambridge a mere 0.05 of a second behind.
This year, the Cambridge boat included Chemical Engineering PhD student, Kris Coventry, pictured, right. Kris is working on polymer processing, in the research group of Professor Malcolm Mackley. He is 6ft 5in, weighs in at 89 kg and his home town is Melbourne, Australia.
We congratulate him and all the Cambridge crew for a courageous race, but, of course, our congratulations must also go to Oxford for winning.
President of Trinidad and Tobago
The new President of Trinidad and Tobago is George Maxwell Richards, known as Max Richards, a PhD holder from this Department. He was elected in February 2003 and Prime Minister Patrick Manning said, "We consider Professor Richards to be eminently qualified to hold the highest office in the country. In 1977, he received the Chaconia Gold Medal for his achievements and service to Trinidad and Tobago". He is 71.