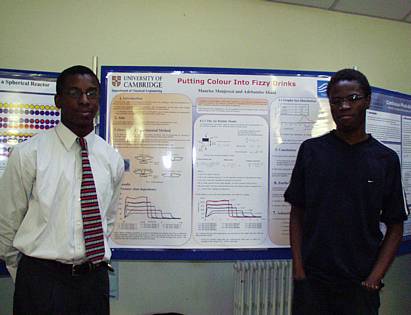 Over a two year period the BBC followed eight ambitious Black British students through Cambridge University and on into their chosen careers. One of those students is Adebambo Akani, who graduated with an MEng in Chemical Engineering in 2003. Bambo featured in the second episode of Black Ambition broadcast on BBC2 on Wednesday 14 January 2004.
Adebambo Akani studied Engineering for one year and then joined the Department of Chemical Engineering in 2000. Chemical Engineering is not a direct entry subject so most students enter the Department after one year of either Natural Sciences or Engineering. They then spend three years studying Chemical Engineering. It is possible to graduate after two years with a BA degree, but most students stay on for the fourth year to gain the MEng.
The photograph shows Bambo (on the left) with his research project partner, Maurice Monjerezi. The research project is a major part of the fourth year and they chose to work on Putting colour into fizzy drinks. The project was supervised by Prof Mackley who also appeared in the program.
Since leaving Cambridge, Bambo has gone into investment banking and now works for Goldman Sachs in the operations division. Chemical Engineers are highly employable in industry and in other areas because they have many skills and are experienced at solving problems.
The Department of Chemical Engineering has research students and undergraduates from many different countries and backgrounds and the department group photos illustrate the diversity of ethnic origins. The BBC's figures suggest that out of 11,600 Cambridge undergraduates, just 84 students are Black British and that although black people make up almost five per cent of the population, they represent only 0.7 per cent of Cambridge undergraduates.