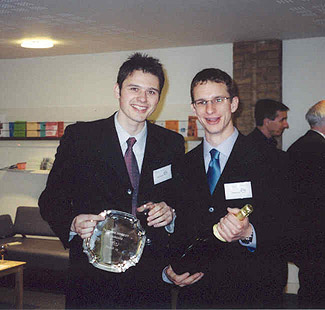 During 2003, Heikki Lanckriet (on the left in the photograph) and Daniel Jones (on the right) of the Department of Chemical Engineering formed Novexin and won £10,000 in the Cambridge University Entrepreneurs Business Plan Competition.
Novexin is a biotechnology company seeking to further develop and commercialise its proprietary protein processing technology. The company is addressing the need for protein purification and refolding techniques that are robust, high-yielding and easy to scale-up for industrial production.
In February 2004, they announced that Novexin has acquired technology, originating from Cambridge University, to produce proteins from DNA through a novel protein refolding process and that they have raised £400,000 in seed investment from investors including Cambridge Capital Group and business angels to further develop the process.