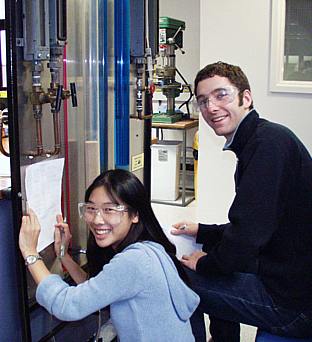 Cambridge University is at the top of The Times Good University Guide in Chemical Engineering!
The Guide was published on May 19, 2004 and lists twenty Chemical Engineering departments. The top three are
Cambridge,   100%
Imperial College,   99.4%
Manchester,   92.7%.

 
The overall scores are made up from the Teaching Quality Assessment (TQA) where Cambridge has the best score of 23 out of a possible 24, Research Assessment Exercise (RAE) where Cambridge is rated 5 and the A level score from the average of new students.
Cambridge heads ten of the 16 subject tables covering sciences, underlining its reputation for excellence in technology. Overall, Cambridge came second, with Oxford in first place.
Cambridge is also top of the Guardian's University Guide.
Cambridge came top in the subject league table for Chemical Engineering with Aston in second place and Imperial College third. The Guardian has also listed twenty institutions, but uses slightly different criteria to the Times.
The University as a whole was also ranked first by the Guardian, with Oxford second and Imperial College third.