The Department of Chemical Engineering at the University of Cambridge held a two-day Symposium on 30 September/1 October 2004 to mark the retirement of the Shell Professor of Chemical Engineering, John Bridgwater.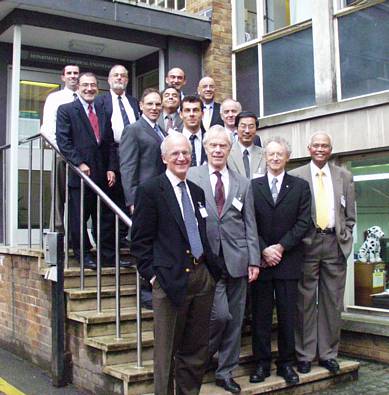 John is shown in the photograph with the speakers from the event. They come from all around the globe and their chosen topics reflect John's research interests in solids processing. The symposium was well attended and delegates included many friends, colleagues and acquaintances that John has made over a long and distinguished career.
The lectures took place in the newly refurbished main lecture theatre at the Department of Chemical Engineering and on Thursday evening there was an organ recital given by Dr Robin Batterham in St Catharine's College Chapel, and a dinner, also at St Catharine's. After the dinner there were speeches from Sir David Harrison, Andrew Scott from Shell and Professor Bridgwater. Andrew Scott presented Professor Bridgwater with a fossil shell to remind him of his time as the Shell Professor. Andrew Scott is a member of the Chemical Engineering Syndicate and was a research student of Professor Bridgwater's.
The speakers
Using the key to the photograph, Professor Bridgwater is 1.
2 is Professor Ed Cussler, from the Dept of Chemical Engineering, University of Minnesota who spoke on Flake-filled barrier materials.
3 is Dr Robin Batterham, from the Australian Academy of Science, Canberra, who with Professor Roland Clift (12), from the Centre for Environmental Strategy, University of Surrey discussed Sustainability and the breakthroughs needed in chemical engineering science. The implementation of sustainability was endorsed by IChemE in the 1997 London Communiqué during John's term as IChemE President.
4 is Dr Ramesh Mashelkar, Head of CSIR, the Council of Science and Industrial Research, New Delhi Evolution of new knowledge systems by bridging traditional wisdom and modern science
5 Professor Ko Higashitani, Dept of Chemical Engineering, Kyoto University-Katsura How the behaviour of colloidal dispersions is affected by the molecular-scale structures on particle surfaces
6 Professor Wim van Swaaij, Dept of Chemical Technology, University of Twente Fundamentals of reactor development for thermo-chemical conversion of biomass
7 Dr Bruno Laurent, Institute for Manufacturing, Department of Engineering, University of Cambridge Scaling factors in granular flow - analysis of experimental and simulations results
8 Professor Julio M Ottino, Department of Chemical and Biological Engineering, Northwestern University A window into complexity: lessons from simple examples of self-organizing systems
9 Professor Jacob Masliyah, Chemical & Materials Engineering, University of Alberta Colloidal and electrokinetic phenomena in oil sands processing
10 Professor Alexis Bell, Department of Chemical Engineering, University of California Challenges and opportunities in the field of catalysis: a peak over the horizon
11 Professor Mike Hounslow, Dept of Chemical and Process Engineering, University of Sheffield Granules in motion: from kinematics to population balance models
13 Professor Mojtaba Ghadiri, Dept of Chemical Engineering, University of Leeds Attrition and breakage of particulate solids subjected to bulk shear deformation
14 Dr Ian Wilson, Department of Chemical Engineering, University of Cambridge Exploiting the curious characteristics of dense solid-liquid pastes
Professor Bridgwater
John has been the Shell Professor since 1993, served as Head of Department until 1998 and was President of the Institution of Chemical Engineers for 1997-1998. Previously, for 13 years, he was at the University of Birmingham in the Department of Chemical Engineering where he was Head of Department, Dean of Engineering and latterly also the leader of the Ceramics Processing Group in the University's IRC in Materials for High Performance Applications. John has been a Fellow of the Royal Academy of Engineering since 1987. He was Chairman of the Editorial Board and Executive Editor of Chemical Engineering Science1982 – 2003. He was Chairman of the Organising Committee of the Third World Congress on Particle Technology held in the United Kingdom in July 1998.
John has had an interest in Particle Technology throughout his career and has done much to initiate new lines of work to open up the discipline. Early work with David Bagster in the 1970s on flow over blades led on to a series of papers on the fundamental processes that determine the relative motion of particles when these are deformed in the bulk. This could not be exploited until the advent of the positron camera, and he helped to develop the positron emission particle tracking (PEPT) technique while at the University of Birmingham. He has published some 200 refereed papers in all, with many being concerned with powder mixing. He also initiated work on attrition, a subject that had previously lacked any rationale. His other main current research interest lies in paste mechanics, some of the earlier work being summarised in a book with John Benbow "Paste Flow and Extrusion" (1993). He has also worked on fluid-solid systems such as moving beds and spouted beds.