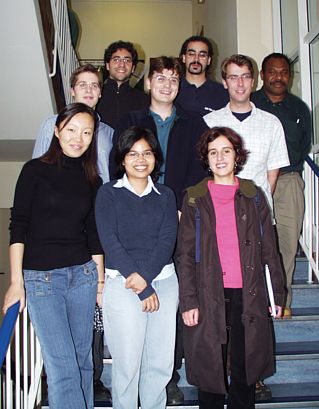 The new academic year for Cambridge University began on Tuesday, 5 October 2004.
New undergraduate and postgraduate students arrived in Cambridge from all over the world and previous students returned. This year 40 students signed up for the BA/MEng in Chemical Engineering, 9 for the MPhil, and we have 17 new postgraduates, some of whom are shown in the photograph.
Our undergraduates have already been in Cambridge for a year, studying Engineering, Natural Sciences or Computer Science, and this year the class includes three exchange students from MIT.
At the postgraduate level, five students are taking an alternative route towards a research degree, the Ph.D. with Advanced Chemical Engineering Practice. They are starting their PhD studies by spending the Fall Semester at MIT, working with their US counterparts.
The one-year taught M.Phil. in Advanced Chemical Engineering Practice is a new course and those students are also spending the Fall Semester at MIT.
In amongst all these new arrivals, we should not forget the retirements of Professors John Bridgwater and Allan Hayhurst. We wish them well in their retirements, but they will continue to be associated with the department.