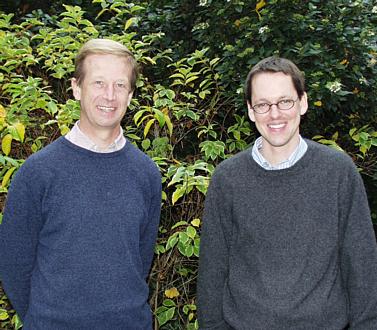 Congratulations to Dr Clemens Kaminski and Dr Markus Kraft who have received personal promotions to Reader
and to Dr John Dennis and Dr Vassilios Vassiliadis on their promotions to University Senior Lectureships.
Dr Kaminski (on the right in the photograph) works on novel laser spectroscopic methods and heads the Laser Analytics Group. Dr Kraft's research looks at the development and application of computational methods to solve problems that occur in the broad field of chemical engineering. He heads the Computational Modelling Group.
Dr Dennis's (on the left in the photograph) area of research is concerned principally with the generation of sustainable energy. He is also Course Director for the M.Phil. in Chemical Engineering Practice. Dr Vassiliadis works on the application of modern numerical methods in the field of process and product design and optimisation.
The promotions were announced in The Reporter on Wednesday, 15 December 2004. Head of Department, Prof Howard Chase's comment was, I send them my heartiest congratulations. Given the strength of the competition throughout the University they have done remarkably well.