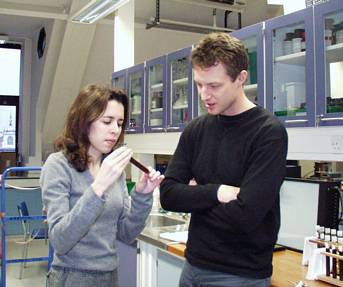 Congratulations to Dr Silvana Cardoso and Dr Geoff Moggridge on their promotions to University Senior Lectureships.
Silvana's research interests are in the areas of fluid mechanics, transport processes and mixing with applications in pollution control and prevention. Geoff is interested in structured materials and chemical product design. One of the applications of his work is an environmentally friendly method of controlling zebra mussels and other invading fresh water species that can block pipework by infestation.
Silvana and Geoff are currently supervising a Part IIB Research Project entitled Periodic precipitation for membrane design and the photograph shows them examining the results of one of the students' experiments.
The promotions were announced in The Reporter on Wednesday, 21 January 2004. Head of Department, Prof Howard Chase's comment was, "Thoroughly deserved!"