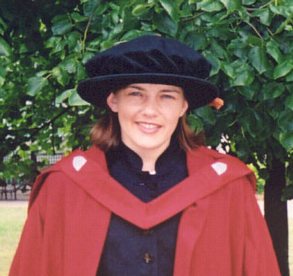 Dr Fiona Gilchrist, a postdoc in the bioscience engineering group until last autumn, has recently been awarded a prestigious scholarship by the Health Research Board of Ireland to attend the US National Cancer Institute (NCI) Summer Curriculum in Cancer Prevention. This seven-week curriculum will be held at the NCI headquarters in Bethesda, Maryland, USA and is conducted by world leaders in Cancer Control and Prevention. It is part of the NCI's Cancer Prevention Fellowship Program.
Dr Gilchrist's research in this department was on polymers for tumour imaging. She has continued to work in the area of delivery of drugs to tumour cells, and this latest opportunity will involve working closely with leading oncologists from the USA on transforming lab-based technologies into therapeutics.
The photograph shows Fiona after receiving her PhD from Aston University in Birmingham in July 2003. She is currently working as a Postdoctoral Fellow in the School of Pharmacy at University College Cork, Ireland, investigating Cyclodextrin Complexes as non-viral delivery agents.