Happy Birthday Howard
17 November 2004 - Professor Howard Chase, our Head of Department, is 50 today! We wish him many happy returns.
As members of the department arrived in the morning, the first thing they saw was a banner and balloons in the entrance hall, put there by Janice Weeks and Jim Thompson. Janice then presented him with a badge saying "I am 50".
Later, at tea in the morning, Professor John Davidson presented Howard with a bottle of champagne and a card signed by students and staff.
| | |
| --- | --- |
| | It was also Professor Allan Hayhurst's birthday and the photograph shows, from left to right, Professors Chase, Davidson and Hayhurst. |
Wedding in Colorado

Matt Hutchinson married Brooke Beasley on Friday 15th October 2004.

Matt is a post graduate student at the Department of Chemical Engineering and is supervised by Professor Howard Chase. Brooke is a recent graduate of the Department of Biological Anthropology, and is currently working for the international charity CAMFED.

The ceremony was held in Colorado, where both Matt and Brooke hail from.

 
Kate Miller is a postgraduate student in this department, in the BioScience Engineering Group. She is also one of the founder members of theatre company Top Quark Productions and on the team for their current production, Oxygen.
Oxygen, by Carl Djerassi and Roald Hoffmann, is at the ADC Theatre, Cambridge on the 26th-30th October 2004. In the play, the authors, both chemists themselves, tackle the ethical issues surrounding priority and discovery, and the question of what it really means to be a scientist.
What is discovery? Why is it important to be first? The Nobel Foundation decides to award a 'retro-Nobel' to recognise the work that launched the Chemical Revolution: the discovery of oxygen. Chemists Lavoisier, Priestley and Scheele seem natural choices, but the committee can't seem to agree. While they attempt to determine whether they wish to acknowledge the first to experiment, to publish, or to fully understand the work, the candidates themselves join their wives in 1777 Stockholm to promote their work to King Gustav III.
Special events to accompany the production include free pre-performance talks every night of the play and a display at the Whipple Museum of the History of Science. There will also be a staged reading of Calculus, by Carl Djerassi, at 2.30pm on the 30th October.
Top Quark Productions is a theatre company committed to the public understanding of science.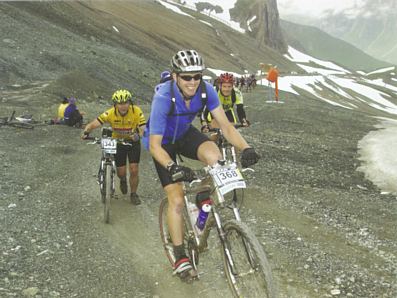 TransAlp Challenge
From 17th to 24th of July 2004, postgraduate student Bart Hallmark took part in the Addidas TransAlp Challenge 2004.
It's billed as [probably] Europe's toughest mountain-bike stage race and is one of the few Professional/Amateur races of its kind. Held over 8 days, this year it traversed 17 mountain passes, 652.19 kilometres and 21,521 vertical metres. The terrain was a mixture of road, forest tracks, meadow paths and rocky single track paths. It started in Mittenwald, Bavaria and headed via Imst (Austria), Ishgl (Austria) then over the highest point in the race at 2700m over to Scuol (Switzerland), Naturno (Italy), Merano (Italy), Kalterno (Italy), Folgaria (Italy) ending up on the shores of Lago di Garda at Riva del Garda.
Bart and his team mate Andrew Cockburn from materials science were aiming to be among the top 100 and came in 83rd, well inside the target they set themselves. Another [ex] Cambridge team consisted of elite category road racer, holder of the UK Human powered vehicle speed record and former CUED member Rob English and materials science postdoc Duncan Alexander. Rob and Duncan came in a blistering 29th despite multiple mechanical failures.
There were another 311 men's teams (including the German Olympic squad, several former world champions and other mountain bike legends such as Tom Ritchey, Tinker Juarez and marathon world champion and Olympian Thomas Frischknecht), about 30 women's teams and roughly the same number of mixed teams, so there were around 950 people all together.
When asked "Why?", Bart said, "Why not?! It's a more physical challenge than the sailing and I was curious to see whether I could survive it! Even more so after one knee injury in mid March which stopped me riding for three weeks and a partially torn knee ligament in mid April (skiing) which meant I could only start preparation properly eight weeks before race start... Nothing like proper preparation and planning ;o) Marginally stressful...!"
Photo by Foto Hamann
Bridges Relay
The Annual Bridges Relay Race took place on 24 June 2004 in London and included two teams of four from the Department of Chemical Engineering.
The race is run around the banks of the river Thames and takes the form of four legs of 2.4 miles each. The start was by the London Eye, near Westminster Bridge, at the first stroke of Big Ben at 7pm. The route was to Vauxhall Bridge, across the river, back to Lambeth Bridge, recross to the east bank and back to Westminster Bridge. The conditions were cool and very breezy with cafe furniture blowing across the footpath to add to the other obstacles like tourists and commuters.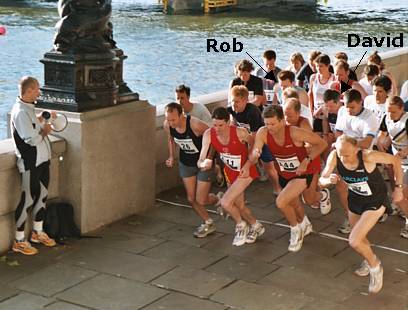 The first team are shown in the photo and are, from left to right, Rob Harris, Bruce Russell, Rowan Hooper and Dean Barker (that's 3 Kiwis!). Rob, Rowan and Dean are post graduate students and Bruce is a post doctoral researcher.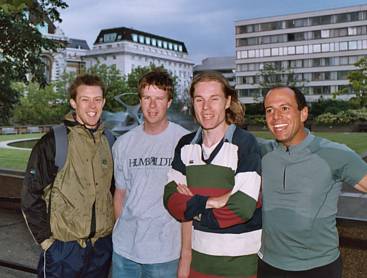 The second team was more loosely associated with the Department, consisting of David Carter (Research Facilitator), his partner Diane, and two friends.
Team 1 came 10th overall, with Rowan scoring second fastest individual time (11:36s). Team 2 was the winning mixed team, coming in 22nd overall.
The runners are now looking forward to the Chariots of Fire relay on 19 September.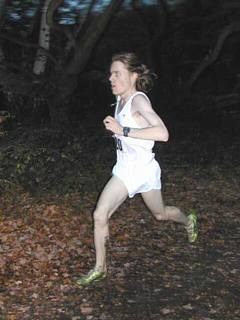 Rowan runs for his country
At the end of March 2004, post graduate student Rowan Hooper was selected to represent New Zealand in the World Student Cross-Country Championships, which makes him the proud owner of a black New Zealand singlet. The event was held in Turin, Italy and he was placed 49th (out of around 90).
He was selected to represent his country by coming 11th (out of 216) in the British University Cross-Country Championships held in Dundee in February 2004.
Last December, Rowan was also a member of the Cambridge team that beat Oxford in the cross-country varsity match. Cambridge now leads Oxford 57 to 56 in this fixture.
On 15 May 2004, he ran for Cambridge again, but this time in the athletics varsity match in Oxford, where he came second in the 5000m with a time of 14:57.6.
Here in the Department of Chemical Engineering, Rowan's research is on the Development of microscopic techniques for the study of protein systems and he is supervised by Dr Paterson, Dr Kaminski and Dr Wilson.
Researcher completes London Marathon in less than three hours

Rob Harris recently ran in the London Marathon on April 18th, 2004, raising money for the National Asthma Campaign. The day was wet and grey, but he completed the course in 2:59:07, placing him 1,078 out of 31,796 runners. This was inside his target time of 3 hours, and means that he has an automatic entry into next years marathon. Rob says that he is unlikely to run another marathon this year, but hasn't ruled it out and will be keen to improve his time in next year's London Marathon.

Rob is is a research student investigating three-dimensional micromodels under the supervision of Dr. Mike Johns at the MRRC.
Diploma for Roz Williams

Roz Williams, Head of the Laboratory Section, has been studying with the Open University over the last four years and has now attained a Diploma in Biological Sciences.

Roz has been with the University for 18 years and has worked in the Department of Chemical Engineering for 8 years. She already had a degree in Chemistry, but as the department has moved more towards Biochemical Engineering, she felt she needed to know more in that area and took up the challenge of studying with the OU as well as doing her full time job.

She intends to continue studying and hopes to get a degree in Biological Sciences in two years time.
Cambridge win 150th Boat Race

Cambridge have won the historic 150th Boat Race by 6 lengths in a time of 18 minutes 47 seconds. Crews from Oxford and Cambridge rowed against eachother on the traditional course on the River Thames, and this year the race took place on March 28th, 2004.

For the second year running, the Cambridge boat included Chemical Engineering PhD student, Kris Coventry, pictured, left. Kris is working on polymer processing, in the research group of Professor Malcolm Mackley. He is 6ft 5in, weighs in at 89 kg and his home town is Melbourne, Australia.

We congratulate him and all the Cambridge crew.