The 7th World Congress of Chemical Engineering took place in Glasgow (Scotland) on the 10-14 July 2005 and was attended by many members of staff and students from the Department of Chemical Engineering in Cambridge.
They presented papers on many diverse topics, reflecting the range of research carried out here.
In the Engineering for Life - Environmental Engineering and Management topic, Sean McHugh and Dr Silvana Cardoso raised the question of what happens if large quantities of carbon dioxide are released from the deep ocean. Carbon dioxide may be injected into oil fields as a way to enhance oil recovery or it may be released into the ocean in attempts to sequester it and mitigate global climate change. Proper knowledge of CO2 dispersal is critical in assessing the safety and sustainability of deep ocean CO2 release, yet no laboratory experiments to date have reflected this. The present work uses particle image velocimetry to investigate CO2 dispersal and a multi-phase system consisting of calcium carbonate particles, CO2 bubbles, and an acidic aqueous solution to mimic deep ocean conditions in the laboratory at atmospheric pressure.
In the Molecules into Money - Process Intensification topic, Bob Skelton, Trond Bustnes and Professor Malcolm Mackley presented their work on the application of an Oscillatory Flow Reactor (OFR) technology for the production of biodiesel transport fuel using both fresh and waste cooking oils as a feed stock. The paper also discussed work in the development of techniques for biodiesel analysis. Facilities are now available in house at Cambridge to carry out many of the tests required by the proposed EU standard for biodiesel. In this way it is possible to optimise process conditions with a view to full commercialisation.
Magic bullets turned up in two different applications. Dr Geoff Moggridge, David Aldridge and Paul Elliot have developed a magic bullet, a microencapsulated BioBullet to destroy the invading zebra mussels that now infest many waterways and Mark Eccleston et al have been working on a magic bullet to carry chemotherapeutics to tumours. If the drug delivery system can differentiate between healthy and diseased tissues, then it may be possible to avoid side effects associated with highly toxic drugs.
These are just four of the twenty eight papers presented. The full list is as follows:
O126-003 - Hydrodynamic transitions in trickle bed reactors using magnetic resonance imaging
Session Title: Catalysis and Reaction Engineering VII
Session Topic: Advancing the Fundamentals - Catalysis and Reaction Engineering
Authors: LD Anadon 1, AJ Sederman 1, LF Gladden 1
Organisation: 1Chemical Engineering, University of Cambridge;
P20-016 - A web Teaching module for stochastic modelling in chemical engineering
Session Title: Chemical Engineering Education
Session Topic: Chemical Engineering Education
Authors: M Kraft 1, S Mosbach 1, A Selmer 1, W Wagner 2
Organisation: 1Department of Chemical Engineering, University of Cambridge; 2Weierstrass Institute for Applied Analysis and Stochastics;
O88-002 - Deep-ocean carbon dioxide release
Session Title: Resource and Energy Efficiency - CO2 Mitigation
Session Topic: Engineering for Life - Environmental Engineering and Management
Authors: S McHugh 1, S Cardoso 1
Organisation: 1Chemical Engineering, Cambridge University;
O12-003 - Development of the oscillatory flow based process for the production of biodiesel transport fuel
Session Title: Process Intensification - Intensification Equipment
Session Topic: Molecules into Money - Process Intensification
Authors: B Skelton 1, TE Bustnes 1, MR Mackley 1
Organisation: 1Department of Chemical Engineering, University of Cambridge;
O76-002 - The melt rheology and foaming behaviour of starch using a Multipass Rheometer
Session Title: Food and Drink - Supercritical Processing
Session Topic: Engineering for Life - Food and Drink
Authors: NC Nowjee 1, MR Mackley 1
Organisation: 1Department of Chemical Engineering, University of Cambridge;
C34-002 - "Sustainability in chemical engineering": Experience from the introduction of a new lecture course for chemical engineering students
Session Title: Chemical Engineering Education I
Session Topic: Engineering for Life - Sustainable and Clean Technologies
Authors: S Harrison 1, JS Dennis 2
Organisation: 1Chemical Engineering, University of Cape Town; 2Chemical Engineering, University of Cambridge;
O72-002 - Viral co-chaperonin homolog co-expression: a new refolding tool?
Session Title: Biochemical Engineering - Bionanotech II
Session Topic: Engineering for Life - Biochemical Engineering
Authors: G Morreale 1, SJ Hanslip 1, APJ Middelberg 2, RJ Falconer 1
Organisation: 1Chemical Engineering, University of Cambridge; 2Division of Chemical Engineering, University of Queensland;
O128-002 - A microencapsulated BioBullet for the control of biofouling zebra mussels
Session Title: Environmental Engineering and Management - Water Recycling
Session Topic: Engineering for Life - Environmental Engineering and Management
Authors: G Moggridge 1, D Aldridge 2, P Elliot 2
Organisation: 1Chemical Engineering, Cambridge University; 2Zoology, Cambridge University;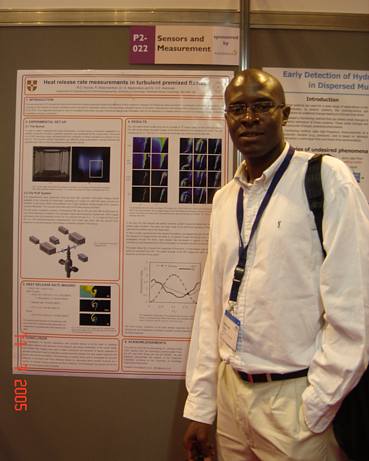 P2-022 - Heat release rate measurement in turbulent flames
Session Title: Sensors and Measurement
Session Topic: Science into Engineering - Sensors and Measurement
Authors: BO Ayoola 1, R Balachandran 2, E Mastorakos 2, CF Kaminski 3
Organisation: 1Chemical Engineering, University of Cambridge; 2Department of Engineering, University of Cambridge; 3Department of Chemical Engineering, University of Cambridge;
O134-003 - Design and in-vitro testing of effective polymeric drug targeting systems for solid tumours.
Session Title: Drug Delivery
Session Topic: Engineering for Life - Drug Delivery
Authors: ME Eccleston 1, Z Yue 1, SL Williams 1, CK Lee 1, R Chen 1, KF Miller 1, NKH Slater 1
Organisation: 1Chemical Engineering, Cambridge University;
C27-003 - Modelling direct injection homogeneous charge compression ignition combustion: a stochastic approach
Session Title: Modelling
Session Topic: Advancing the Fundamentals - Modelling
Authors: H Su 1, A Vikhansky 1, M Kraft 1, F Mauss 2, A Bhave 3
Organisation: 1Department of Chemical Engineering, University of Cambridge; 2Division of Combustion Physics, Lund Institute of Technology; 3Reaction Engineering Solutions Ltd.;
P6-014 - A scaling analysis of the effects of natural convection, when Sal'nikov's reaction: P -> A -> B occurs, together with diffusion in a batch reactor
Session Title: Catalytic and Reaction Engineering III
Session Topic: Advancing the Fundamentals - Catalysis and Reaction Engineering
Authors: AN Campbell 1, S Cardoso 1, AN Hayhurst 1
Organisation: 1Department of Chemical Engineering, University of Cambridge;
P43-028 - Electrochemistry in microfluidic environments. Applications of resonance spectroscopy for the investigation of electrolysis reactions
Session Title: Fluid Mechanics and Microfluidics
Session Topic: Advancing the Fundamentals - Fluid Mechanics and Microfluidics
Authors: A Fisher 1, RG Compton 2, AJ Wain 2, R Le Roux 1, K Yunus 3
Organisation: 1Chemical Engineering, University of Cambridge; 2Physical and Theoretical Chemistry Laboratory, University of Oxford; 3Chemical Engineering, Cambridge;
O107-001 - Metal affinity chromatography for the single step purification and refolding of a recombinant protein
Session Title: Biochemical Engineering - Downstream Processing II
Session Topic: Engineering for Life - Biochemical Engineering
Authors: MH Hutchinson 1, G Morreale 1, APJ Middelberg 2, HA Chase 1
Organisation: 1Department of Chemical Engineering, University of Cambridge; 2Division of Chemical Engineering, University of Queensland;
O69-001 - Computational study of liquid-liquid dispersion in a rotating disc contactor
Session Title: Modelling III
Session Topic: Advancing the Fundamentals - Modelling
Authors: A Vikhansky 1, M Kraft 1, M Simon 2, S Schmidt 2, HJ Bart 2
Organisation: 1Chemical Engineering, Cambridge University; 2Mechanical and Process Engineering, Technical University Kaiserslautern;
O149-002 - The combustion and gasification of sewage sludge and waste materials in a slugging gas-fluidized bed
Session Title: Catalysis and Reaction Engineering IX
Session Topic: Advancing the Fundamentals - Catalysis and Reaction Engineering
Authors: AC Rees 1, JF Davidson 1, JS Dennis 1, AN Hayhurst 1
Organisation: 1Department of Chemical Engineering, University of Cambridge;
O48-002 - Livening up the final year; enhancing breadth through critical thinking
Session Title: Chemical Engineering Education - Development of Teaching Methods
Session Topic: Chemical Engineering Education
Authors: J Bridgwater 1
Organisation: 1Chemical Engineering, University of Cambridge;
P21-013 - Self-assembling viral nanostructures: the expression, purification and assembly of HPV-16 L1 virus-like particles
Session Title: Nanomanufacturing
Session Topic: Science into Engineering - Nanomanufacturing
Authors: S Hanslip 1, NR Zaccai 1, APJ Middelberg 2, RJ Falconer 1
Organisation: 1Chemical Engineering, University of Cambridge; 2Centre for Nanostructural Bioengineering, University of Queensland;
P41-025 - The technology of small things and the natural world
Session Title: General Environmental
Session Topic: Engineering for Life - Environmental Engineering and Management
Authors: NJ Harwood 1
Organisation: 1Computing Service, University of Cambridge;
O120-003 - Novel microreactor design using thermoplastic microcapillary films
Session Title: Microfluidics
Session Topic: Advancing the Fundamentals - Fluid Mechanics and Microfluidics
Authors: CH Hornung 1, B Hallmark 1, RP Hesketh 2, MR Mackley 1
Organisation: 1Department of Chemical Engineering, University of Cambridge; 2Department of Chemical Engineering, Rowan University;
O165-001 - Flow induced crystallisation of polyethylene in a multipass rheometer
Session Title: Fluid Mechanics and Microfluidics IV
Session Topic: Advancing the Fundamentals - Fluid Mechanics and Microfluidics
Authors: G Hernandez Fernandez del C 1, MR Mackley 1
Organisation: 1Chemical Engineering, University of Cambridge;
P2-015 - Micro-optical measurements of deposition and release of biomass in a high voidage fibre network
Session Title: Sensors and Measurement
Session Topic: Advancing the Fundamentals - Fluid Mechanics and Microfluidics
Authors: TE Bustnes 1, CF Kaminski 1, MR Mackley 1
Organisation: 1Department of Chemical Engineering, University of Cambridge;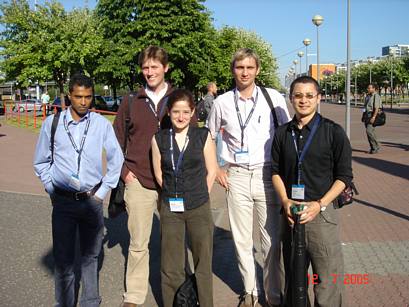 P4-020 - The development of polymer foam microstructure: experimental observations and matching modelling for polystyrene foams using different blowing agents
Session Title: Advanced Product Formulation
Session Topic: Science into Engineering - Advanced Product Formulation
Authors: TR Tuladhar 1, MR Mackley 1
Organisation: 1Department of Chemical Engineering, University of Cambridge;
C4-002 - MRI and modelling studies of drying phenomena
Session Title: Transport Phenomena
Session Topic: Advancing the Fundamentals - Transport Phenomena
Authors: RR Ellis 1, DI Wilson 1, ML Johns 1
Organisation: 1Department of Chemical Engineering, University of Cambridge;
O141-002 - Characterising multi-phase liquids using magnetic resonance techniques
Session Title: Interfacial Colloidal Phenomena V
Session Topic: Advancing the Fundamentals - Interfacial and Colloidal Phenomena
Authors: ML Johns 1, KG Hollingsworth 1, JP Hindmarsh 1
Organisation: 1Chemical Engineering, University of Cambridge;
C6-002 - Development of the optimal strategy for managing the integrity and production risks associated with sand production from the Schiehallion Oil Field
Session Title: Risk Management
Session Topic: Managing Complexity - Safety and Risk Management Systems
Authors: C Deddis 1, M Oxley 2
Organisation: 1Chemical Engineering, University of Cambridge; 2Schiehallion Operations Team, BP Exploration Ltd;
Experimenting across the Atlantic
Session Title: Chemical Engineering Education Session B
Authors:: Anders Selmer1, Mike Goodson1, Markus Kraft1, Siddhartha Sen2, V. Faye McNeill2, Barry S. Johnston2, Clark K. Colton2
Organisation: 1Department of Chemical Engineering, University of Cambridge; 2Department of Chemical Engineering, MIT, Cambridge, MA 02139-4307, USA
Surface Ageing of Soot Particles
Session Title: New Computational and Numerical Solution Strategies
Authors: R I A Patterson1, J Singh1 M Kraft1
Organisation: 1Chemical Engineering, University of Cambridge