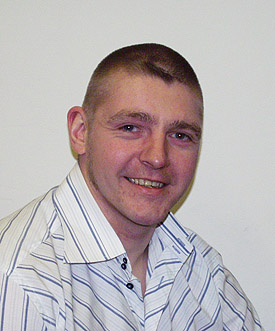 Further information:
BioScience Engineering Group
Royal Society of Edinburgh /
BBSRC Enterprise Fellowships
BBSRC
Dr Mark Eccleston has been awarded a BBSRC/Royal Society of Edinburgh Enterprise Fellowship for 2005.
These Fellowships aim to increase exploitation of ideas with commercial potential from BBSRC supported research. Mark's fellowship will start on October 1st 2005 and it will enable him to concentrate on developing the commercial potential of his research, whilst also receiving formal training in relevant business skills. It will last for one year and lead to an MBA.
The two technical aspects that Mark will be focusing on are a responsive MRI system for imaging and optimisation of a polymer "theranostic"; i.e. a combined therapeutic/imaging system for pre-clinical evaluation. This will be carried out in collaboration with Dr Kevin Brindle in the Department of Biochemistry and radiologists at Papworth Hospital (MRI) and Dr Margery Barrand in the Department of Pharmacology (Theranostic). This is a continuation of development of the company Vivamer from a technology and commercial point of view. Vivamer was founded by Mark and Professor Nigel Slater.
The Fellowship scheme is being piloted by the BBSRC and has been running in Scotland for a few years. It provides funding for a year that will cover salary costs (with £5k for consumables and travel). The recipients spend about 60% of their time on the development of an idea from a commercial perspective, which can include development of a prototype for example, and the other 40% receiving commercial training which, up until last year, resulted in an MSc. This has been upgraded to an MBA this year which is structured around producing a realistic business plan with a view to entering into commercial development by the end or soon after the fellowship finishes. You have to keep the BBSRC appraised of the commercial progress of your proposition for 5 years after the end of the grant.
Only three fellowships were awarded this year, so getting one was a considerable personal achievement for Mark and a success for the department. It also demonstrates recognition of the value of the research being carried out within the department.