The British Chemical Engineering Contractors Association (BCECA), in conjunction with the IChemE, held an Industry Day for Part 2a students in the department on Friday March 18th, 2005.
The day was based around the design of an air separation unit, from bidding for the contract through to construction and commissioning. The groups were given a budget, and could earn penalties and bonuses depending on how they performed each task. Before each exercise there was a presentation to talk about the issues of the exercise and how things are done in the real world.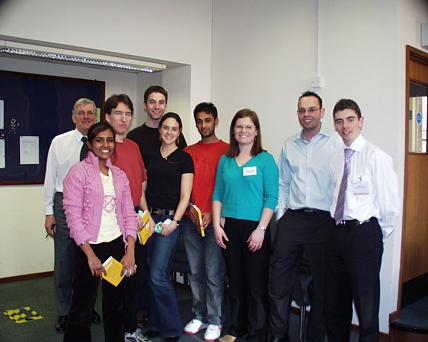 The winning group was the one that made the most profit over the course of the project. The group members are shown in the photographs with the BCECA representatives. The winning students (holding their prize books) are, from left to right: Chamindri Perera, Richard Morrisby, Alex Foley, Marytza Handal and Nahed Ahmed. The BCECA people are, on the left, Laurie Hickman, and to the right of the students, Catherine Noyelle, Brendan Robertson and Will Trevitt.