The Clean Energy Technology and Investment Show focuses on the clean use and production of energy including the latest developments in alternative fuels and the generation of renewable energy. The exhibition took place between Thursday 5th and Saturday 7th May 2005 at the Business Design Centre in London.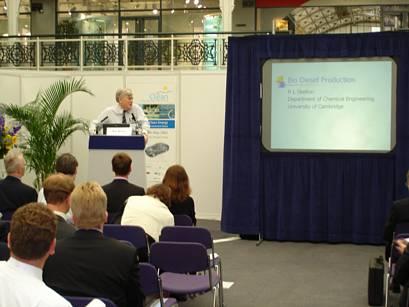 Bob Skelton giving his presentation on biodiesel production.
The presentation was attended by around 80 people and more than
100 people visited the stand.
Bob Skelton, Colin Deddis and David Carter, from the Department of Chemical Engineering, Cambridge University, presented their work on the production of biodiesel from waste cooking oils such as rapeseed oil.
There is currently potential for a large market for biodiesel with a European directive insisting that this year 2% of all road transport should be powered by biofuels with a target of 5.75% by 2010. The Cambridge team are proposing to develop a mobile refinery. The idea is to put one of these mini-refineries on the back of a lorry so that a farmer could hire one when he was ready to turn his crop into diesel.
The government has made this market profitable by giving a tax rebate of 20p on every litre sold compared with commercial diesel. Mr Carter believes the need to reduce the UK's carbon emissions, the rising cost of oil and the need to comply with the EU directive will cause a rapid market rise.
The UK diesel market is 20 million tonnes a year, and to reach the EU quota 1.15 million tonnes of that would have to be bio-diesel. At present 414,000 tonnes are produced annually.