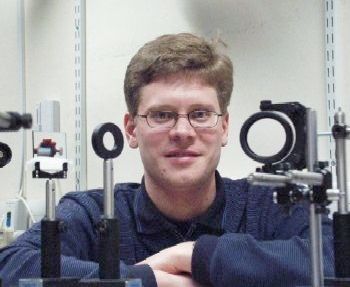 Dr Johan Hult has been awarded an EPSRC Advanced Fellowship for 2005.
The fellowship will last for 5 years, starting in September 2005 and has the title Development of novel wavelength agile laser sensors for fuel cells and next generation combustion systems. It comes with a grant of £225,000 to fund activities in advanced laser sensor design for combustion diagnostics, process control and gas phase sensing applications. This will greatly enhance the department's capabilities in the area of measurement.
One of the aims of the research project is to develop a novel femtosecond laser based sensor for on-line diagnostics of fuel and product gases inside high temperature fuel cell systems. High temperature fuel cells constitute one of the most promising technologies for future power generation, as they feature both very high efficiency and extremely low pollutant formation. This work will be performed in close collaboration with Rolls-Royce Fuel Cell Systems plc., who develop solid-oxide fuel cell systems.
Dr Hult's research interests span applications ranging from laser based combustion diagnostics and remote sensing to process control applications. Within the Laser Analytics Group he manages a state-of-the-art diode laser laboratory for industrial sensing and process control applications.
The Head of the Laser Analytics Group, Dr Clemens Kaminski, congratulated Dr Hult and said, "This is a piece of outstanding news for the Laser Analytics Group and the department."