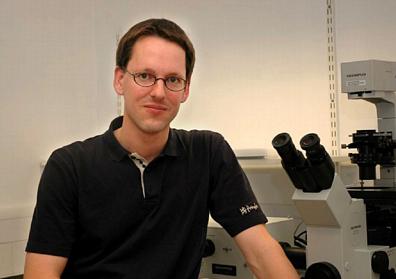 Dr Clemens Kaminski has been awarded a 2005 Philip Leverhulme Prize for outstanding research achievement.
Each year approximately 25 awards are given in five selected subject areas and Dr. Kaminski is among the 5 winners within the engineering subject category. The key aim of the awards is to recognise and facilitate the work of outstanding young researchers based in UK universities who have influenced knowledge in their fields at an internationally competitive level. The award comes with £50,000 in prize money to support the winners' personal research interests.
Dr. Kaminski has gained recognition for the development of fast chemical imaging techniques based on laser induced fluorescence spectroscopy. He says: "We can measure the production of reactive species at high spatial and temporal resolution and some techniques we use are sensitive enough to detect individual molecules. Laser based imaging techniques are very versatile in their application potential and our techniques are used, for example, in the development of next generation aeroengine technology, in the development of industrial and biomedical sensors, and in the study of molecular interacions inside living cells.
Together with my co-investigator, Dr. Johan Hult, I am currently looking into ways of exploiting novel supercontinuum laser sources for diagnostic applications. These sources produce extremely short pulses of light containing a huge spectrum of colours, thus permitting the simultaneous targetting of a multitude of chemical species at once. The prize money will enable me to take an active role in the development of microscopic diagnostics with these sources, with applications in microfluidic devices and in drug delivery research."
There were three winners from Cambridge:
Dr Andrea C Ferrari, Department of Engineering: nanotechnology
Dr Clemens Kaminski, Department of Chemical Engineering: laser diagnostics of reactive systems
Dr Tim Lewens, Department of History and Philosophy of Science: philosophy of biology and bioethics