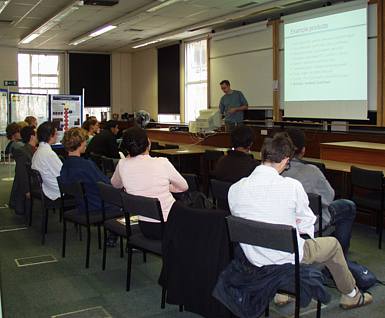 On Thursday 7 July and Friday 8 July 2005 the Department of Chemical Engineering held Open Days for sixth formers and pre-sixth form. This was an opportunity find out what Chemical Engineering is, to discover what Chemical Engineers do, to see the teaching and research facilities, to meet some of the staff and to get details on the course at Cambridge University.
Potential students visited the department, accompanied by parents, friends, siblings and teachers. There were talks on the hour every hour, followed by tours of the department led by current postgraduate students. Groups were shown the lecture rooms, the library, the tea room (which is very important for the social life of the department) and various research laboratories. When they reached the Teaching Laboratory, they had the opportunity to try their hands at some of the experiments they might have to do as undergraduates.
The days were well attended, although the explosions in London on Thursday may have made it difficult or impossible for some people to get here.